Latest Fox Bombshell Drops Into Sky Deal Review at Crucial Time
By
NYT says O'Reilly got new contract after settling allegations

U.K. regulators will weigh relevance to broadcasting standards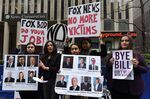 Whether the latest bombshell at Fox News will affect Rupert Murdoch's bid for Sky Plc depends on how closely his opponents can tie decisions made at the U.S. cable-news network to U.K. broadcast-standards rules that don't explicitly factor in corporate-governance failings.
The New York Times reported on Saturday that former Fox News star Bill O'Reilly paid out $32 million in January to a longtime network analyst to settle sexual-harassment claims. Fox was aware of the woman's complaints when it renewed O'Reilly's contract a month later, the newspaper said.
The report comes at a sensitive time for the Murdochs. The U.K.'s Competition and Markets Authority is looking into issues of corporate culture at Murdoch's 21st Century Fox Inc. as part of its review of the New York-based company's 11.7 billion-pound ($15.4 billion) bid for the rest of Sky. 
Opposition lawmaker Tom Watson, a longstanding critic of the 86-year-old billionaire, said it was "jaw-dropping" that O'Reilly had been given a new contract under the circumstances, and that he would write to the CMA about the issue.
"It raises yet more questions about the corporate culture at 21st Century Fox," Watson said. "It has now been demonstrated beyond doubt that executives at Fox News were free to act with impunity in the knowledge that their actions would go unpunished."
Governance 'Credibility'
The CMA hasn't said how much weight it will give the new revelations. The regulator has been asked to determine if the deal would give Murdoch too much influence over U.K. media and if Fox is committed to upholding broadcasting standards. The CMA said it would consider corporate-governance concerns based on how relevant they are to the issue of broadcasting standards.
"I cannot believe they can ignore that" when considering reforms made by 21st Century Fox Chief Executive Officer James Murdoch and co-Chairman Lachlan Murdoch, said Steven Barnett, a professor of communications at the University of Westminster. "I do think it undermines their credibility on corporate governance."
Click here for reaction from O'Reilly's former colleague Megyn Kelly
O'Reilly told the New York Times that there was no merit to any of the allegations against him, saying "I never mistreated anyone," according to the newspaper. He said he had resolved matters privately to protect his children from the publicity.
In June, the U.K.'s telecommunications regulator Ofcom ruled that Sky would continue to be a so-called fit-and-proper holder of broadcasting licenses after the Fox takeover. Ofcom noted then that Fox was already aware of settlements made by O'Reilly when it renewed his contract in February, and said that the number of settlements was "concerning."
Ofcom Disclosure
Nevertheless, Ofcom said that James and Lachlan Murdoch had revised Fox's corporate governance arrangements and Ofcom didn't believe that future such cases wouldn't be investigated and resolved appropriately at Sky.
The January settlement "was discussed with Ofcom and this is also reflected in their final decision," Fox said in a statement Monday to Bloomberg News. Ofcom declined to comment.
Rupert Murdoch has been acting as chairman and CEO of Fox News since July 2016, when Roger Ailes was ousted.
On the "Today" show on Monday, O'Reilly's former colleague, Megyn Kelly, said she warned the two then co-presidents of Fox News in November 2016 of O'Reilly's alleged "history of harassment of women."
She has since left the network. Fox News stopped airing in the U.K. in August.
Before it's here, it's on the Bloomberg Terminal.
LEARN MORE