Mexico Has Trading Options Besides U.S., Economy Minister Says
By
America's southern neighbor looks to Brazil, Argentina trade

Nafta nations last week agreed to extend talks into 2018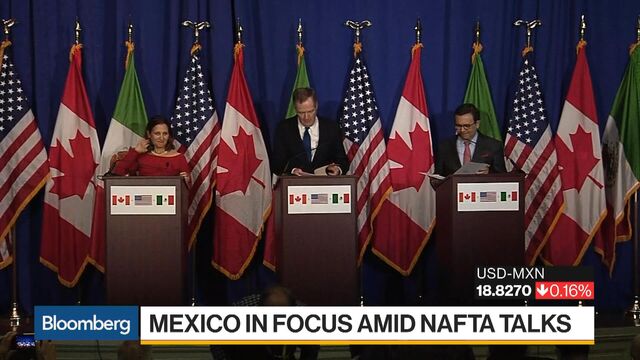 Mexico is making clear, amid negotiations to overhaul Nafta, that it won't buy agricultural goods from the U.S. at any price and may shift to South America instead if the trade relationship with America sours, the nation's economy minister said.
"It's very simple: If today I'm the top buyer of yellow corn, of fructose, rice, chicken, pork from the U.S., I need to open a space for trade with Brazil and Argentina so that at the table people realize that we have options," Ildefonso Guajardo said Sunday in a panel discussion in the central Mexican industrial city of San Luis Potosi.
Speaking at the annual Mexico Business Summit, the nation's top Nafta negotiator criticized the Trump administration's focus on a loss of U.S. manufacturing jobs since the North American Free Trade Agreement took effect in 1994. U.S. automotive production has soared as a result of productivity gains, and the nation has created millions more jobs in service industries than it lost in car production over the period, he said.
In a veiled dig at the U.S., Guajardo said that "it appears that some governments aren't noticing the transformations" in the global economy.
Guajardo defended the World Trade Organization, saying that while its dispute resolution system can be improved, "under no circumstances" can the world permit a weakening of the multilateral trading system.
The WTO is the only mechanism to protect the interests of smaller and developing nations against those of the world's largest advanced economies, such as the U.S., he said. While Guajardo said the Nafta nations should look for ways to induce companies to invest in production in North America, he cautioned against rules that would reduce the export potential of any of the three countries.
The U.S., Canada and Mexico wrapped up the fourth round of Nafta talks in Washington last week and said negotiations will run through the end of March 2018, abandoning a December target to reach a deal. They also extended the time between negotiating rounds, giving themselves more space to consider proposals.
Canada and Mexico have rejected what they see as hard-line U.S. proposals on dairy, automotive content, dispute panels, government procurement and a sunset clause. Negotiators plan to meet next in Mexico Nov. 17-21.
Guajardo told reporters that Mexico has some margin to compromise with the U.S. on Nafta, without specifying in which areas, and that the government will be analyzing that between now and the next round of talks.
Before it's here, it's on the Bloomberg Terminal.
LEARN MORE