Marcato Sues Ugg-Maker to Force Meeting, Vote on Nominees
By
Activist investor seeks to replace entire board at Deckers

Marcato claims Deckers has adopted 'scorched earth' defense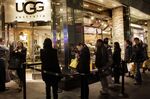 Activist investor Marcato Capital Management sued Ugg footwear maker Deckers Outdoor Corp. to force it to hold its annual general meeting on Dec. 14 and approve its board nominees in a bid for relief from change-of-control penalties.
The San Francisco-based investor, which owns about 8.4 percent of Deckers, said last month that it plans to put forth a slate of 10 nominees to replace the company's entire board at the annual general meeting.
Marcato said it feared Deckers, which hasn't held an annual meeting for 13 months, might postpone it after Deckers Chairman John Gibbons expressed concerns about the prospect of a proxy fight during the winter shopping season, according to the complaint filed Monday in Delaware Chancery Court.
The investor seeks to compel the board to approve and nominate its slate of directors to alleviate the change-of-control provisions that could trigger executive payouts, as well as those related to its credit facility. The company estimates that the executive compensation portion could total as much as $36 million, according to the complaint. It might also allow lenders to accelerate repayment of about $103 million owed on the company's credit facility, Marcato said in the suit.
'Scorched Earth'
"The Deckers board is employing a scorched-earth defense of its position by delaying its annual meeting and refusing without basis to designate Marcato's nominees as continuing directors before the vote," Marcato said in a statement. "Deckers' board must be held accountable for violating the core principles of corporate democracy by preventing shareholders from exercising their right to vote without suffering entirely avoidable, value destroying consequences."
Goleta, California-based Deckers said in a statement that its annual general meeting is already scheduled for Dec. 14.
"Marcato's lawsuit is unnecessary, a distraction from our successful transformation, and a self-serving attempt to advance its own interests at the expense of all other stockholders," the company said.
Marcato Ultimatum

Deckers said in April that it would review a broad range of strategic alternatives, which might include a sale or another transaction. In June, Marcato issued an ultimatum to the company's board to either sell itself at an attractive valuation or face a fight for board control. At the time, Marcato managing partner Mick McGuire said he knew of at least six other shareholders who had demanded that the company pursue a sale.
McGuire founded Marcato in 2010 with startup capital from Blackstone Group LP after leaving Bill Ackman's firm, Pershing Square Capital Management. The fund primarily invests in small and midsize public companies and looks for ways to make them more valuable.
The case is Marcato International Master Fund Ltd. v. Gibbons, 2017-0751, Delaware Chancery Court (Wilmington).
— With assistance by Jef Feeley
Quotes from this Article
Before it's here, it's on the Bloomberg Terminal.
LEARN MORE