Kenyan President Insists That Thursday Election Go Ahead
By
Elections body chairman has already meet opposition leader

Foreign missions urge agency to seek extension of Oct. 26 vote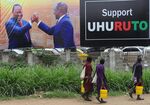 Kenyan President Uhuru Kenyatta met the head of the nation's electoral authority and insisted a rerun of elections scheduled for Thursday go ahead, even as the commission's chairman said he can't guarantee a credible vote.
East Africa's biggest economy is rerunning its presidential election this week after the Supreme Court nullified Kenyatta's Aug. 8 win, saying the vote failed to meet constitutional standards. Independent Electoral & Boundaries Commission Chairman Wafula Chebukati met Kenyatta's main challenger, Raila Odinga, last week after inviting both for talks, saying the agency can't move forward with candidates that "refuse to put personal interests aside and serve the country."
Kenyatta said Monday that the IEBC has been given funds to do its job and it must deliver. "We only insist that elections be held on Oct. 26," he said in an emailed statement after his meeting with Chebukati. "That's the timeline set by the IEBC in terms of conditions set in the annulment."
Separately, Western envoys urged the agency on Monday to seek an extension to the election timetable from the Supreme Court if it's not ready to hold the vote this week. The suggestion was made by U.S. Ambassador Bob Godec and backed by 19 other foreign diplomatic missions in Kenya.
"We are interested in a credible election, not quick fixes," Godec told reporters in the capital, Nairobi. "The IEBC, or any citizen, should be free to request an extension beyond the 60 days. It's a question for the IEBC whether or not the election takes place on the 26th."
Prolonged Stalemate
The missions said they also prefer that the opposition participate in the repeat election after winning an "historic decision" when the Supreme Court ruled in its favor and declared the initial vote was marred by illegalities and irregularities. Odinga's National Super Alliance has said there'll be no elections without significant staff and electoral procedure changes at the IEBC.
Chebukari and former IEBC Commissioner Roselyn Akombe have "raised serious concerns that deserve attention and require action," the missions said. Akombe quit last week and fled to the U.S., saying the vote won't be credible. Chebukati said he couldn't guarantee a fair poll while staff members who were implicated in the botched ballot still in office.
Akombe's resignation and Chebukati's warning should enable the body to seek an extension of 30 to 45 days without violating the constitution, the International Crisis Group said, warning of a high risk of deadly clashes between Kenyatta's and Odinga's supporters, or between security forces and groups seeking to block the vote.
"Proceeding under current conditions would deepen Kenya's ethnic cleavages and prolong a stalemate that has already claimed dozens of lives and come at a high economic cost," the Brussels-based advocacy group said in an emailed statement.
Before it's here, it's on the Bloomberg Terminal.
LEARN MORE