Nikkei 225 Has Record Winning Streak, Yen Falls on Abe Victory
By and
Yen falls to weakest in more than three months against dollar

Abe's election victory signals fiscal and monetary continuity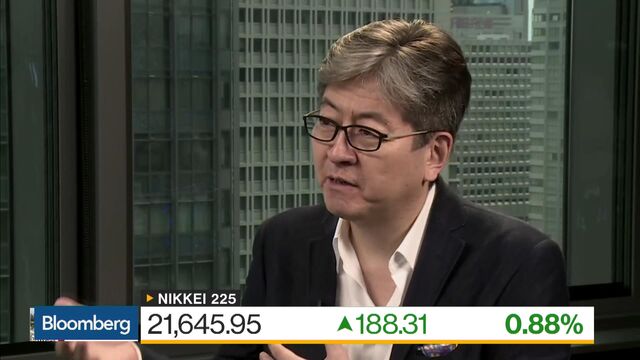 Japanese shares rose, with the Nikkei 225 Stock Average gaining for a 15th straight day, its longest winning streak on record, after Prime Minister Shinzo Abe's ruling coalition retained its majority in Sunday's general election, signaling continuity with his platform of fiscal spending and monetary easing. The yen weakened against the dollar.

The Nikkei 225 climbed 1.1 percent to 21,696.65, the highest close since July 1996, after U.S. equities rose Friday following Senate approval of a budget vehicle for tax cuts. The benchmark Topix index advanced 0.8 percent to 1,745.25, gaining for an 11th day, with electronics makers and chemical companies providing the biggest boosts, as the yen fell to the weakest in more than three months against the dollar.
"The biggest support was that the ruling coalition's landslide win cemented expectations the Bank of Japan's monetary policy stance won't change, pushing the yen lower," said Naoki Fujiwara, chief fund manager at Shinkin Asset Management Co. in Tokyo. "There's little reason to sell stocks for now as Japanese companies' earnings look good, the yen is in a weakening trend, and U.S. equities stay solid."
Abe, 63, saw his ruling coalition retain its two-thirds majority in the 465-member lower house in Sunday's election. That boosts his chances at winning another term next year as head of his Liberal Democratic Party, which could make him Japan's longest serving leader. The prime minister's policy of Abenomics has spurred a more-than 20 percent decline in the yen since he took office in 2012, while the Nikkei 225 has more than doubled.
The yen slid 0.2 percent to 113.73 per dollar as of 3:36 p.m. in Tokyo after earlier weakening to 114.10, the lowest since July 11. Japan's currency fell 0.1 percent to 133.83 yen per euro.
Kuroda's Odds
"The election outcome strengthens expectations for Bank of Japan Governor Haruhiko Kuroda's reappointment or somebody with a similar stance being selected as next governor to extend the current unprecedented monetary easing, making USD/JPY more responsive to any rise in U.S. yields," said Yuji Saito, executive director at Credit Agricole CIB's FX department in Tokyo.
While the Abenomics policy of monetary easing, fiscal stimulus and structural reforms has pushed down the Japanese currency, the Bank of Japan has yet to reach its policy goal of boosting the annual inflation rate close to 2 percent. The new administration will need to pick who would lead the BOJ given that the term of Kuroda, who has overseen unprecedented easing, ends in April.
With Japanese politics out of the way, markets will focus on U.S. factors such as bilateral trade talks, the U.S.'s desire to weaken the dollar, U.S. tax reforms and U.S. politics leading into next year's mid-term elections, said Daisuke Uno, chief strategist at Sumitomo Mitsui Banking Corp. in Tokyo.
SUMMARY
Nidec +4.5%; Citi raises its rating to buy from neutral, saying medium-term profit growth outlook isn't priced in yet
Gauge of electronics makers +1.6% with Fanuc +2.3%, Mitsubishi Electric +1.7%
Sumitomo Chemical +6.5%, best performer in Nikkei 225; gains after the company held a meeting on its battery materials business that SMBC Nikko says left a positive impression
Shin-Etsu Chemical +3.3%
Information Development -13%, worst performance on Topix and biggest decline since Dec. 2008; prelim. 1H operating profit 295m yen vs earlier forecast 600m yen
Quotes from this Article
Before it's here, it's on the Bloomberg Terminal.
LEARN MORE