GE Plunges the Most in Six Years
Thomas Black and Brendan Case
Morgan Stanley says 'sell' with payout cut seen as more likely

Manufacturer slashed forecast last week as power unit dragged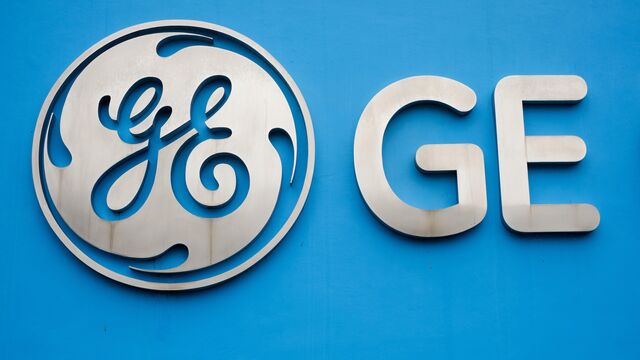 General Electric Co. tumbled the most in six years after the company's deteriorating outlook stoked fears it will cut its dividend for only the second time since the Great Depression.
Banks from RBC Capital Markets to UBS Group AG lowered their predictions for GE's stock price, days after Chief Executive Officer John Flannery slashed the manufacturer's 2017 profit forecast. Morgan Stanley recommended selling the shares, citing "a higher probability of a dividend cut that we do not view as priced in" and hurdles in GE's power-equipment unit.

"The weakness in the power business is one item that people are getting more bearish on," Jeff Windau, an analyst at Edward Jones, said in an interview. "The dividend is another one of those items in which people are getting a stronger feeling that it's going to be cut."
Flannery, who took over Jeffrey Immelt's longtime post less than three months ago, called the company's latest results "completely unacceptable" last week and vowed to consider all options as he seeks to reverse one of the deepest slides in GE's 125-year history. Already, he has targeted $20 billion in asset sales, announced major management changes and welcomed a representative of activist investor Trian Fund Management to GE's board.
GE plunged 6.3 percent to $22.32 at the close in New York, the biggest decline since August 2011. The shares have swooned 29 percent this year, by far the largest drop on the Dow Jones Industrial Average.
A dividend reduction would be a drastic step for GE, where the quarterly payout has long been sacrosanct. GE's shock cut in 2009 during the depths of the financial crisis was the first at the company since 1938.
Performance Risk
"We believe investors need to take action to protect against the possibility of near term underperformance in the event of a dividend cut in November and this is clearly an additional factor in our rating change," Nigel Coe, an analyst at Morgan Stanley, said in his report.
Flannery, who will detail his plans to reshape the Boston-based company at an investor meeting Nov. 13, is grappling with challenges from poor cash flows to slumping power-generation markets.
The maker of jet engines and ultrasound machines on Oct. 20 cut its forecast for adjusted earnings this year to $1.05 to $1.10 a share, down from a previous range of $1.60 to $1.70 a share. Analysts had anticipated $1.54 a share, according to the average of estimates compiled by Bloomberg.
'Obvious Pressures'
The power business's profit fell in the third quarter because of hurdles including a weaker market for services, a sales mix tilted toward less profitable products and "poor execution resulting in project delays/cost of quality items," UBS analyst Christopher Belfiore said in a report.
The deterioration of one of GE's signature businesses is adding to the pressure on Flannery, who's already grappling with weak demand for its oilfield equipment and locomotives.
"Management finally acknowledged the obvious pressures in the power market, and prospects for a recovery are far out in time," Gautam Khanna, an analyst at Cowen & Co., said in a report. "Cash-flow challenges portend dividend cut."
Before it's here, it's on the Bloomberg Terminal.
LEARN MORE