For Markets, It's the ECB's QE Exit That May Matter Most
By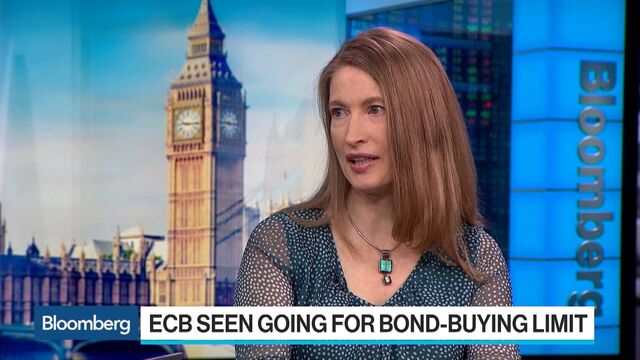 When it comes to the market impact of central banks scaling down their balance sheets, it's the European Central Bank that may matter more than the Federal Reserve and other peers.
"ECB tapering, which we expect to start next year, will have some impact on European and even global fixed income markets -- withdrawing the key source of support global markets had enjoyed so far," Guillermo Tolosa, an economic adviser to Oxford Economics, wrote last week.
The ECB's quantitative-easing program, which started in 2015, now accounts for seven times net issuance of government bonds, according to calculations by Deutsche Bank AG analysts. By contrast, the Fed's buying never exceeded net Treasury issuance, they estimated; the Bank of Japan's was triple.
As a result of the massive purchases, private investors were pushed elsewhere. Euro area buyers boosted their holdings of foreign securities by 1.1 trillion euros ($1.3 trillion) since the advent of ECB QE, according to Tolosa.

Tolosa projected that European demand for global securities will shrink as much as 200 billion euros next year, and twice that in 2019.
It's a "pretty big bazooka that they're taking out," Torsten Slok, a New York-based economist at Deutsche Bank, said on Bloomberg Television Monday, referring to the ECB. It's not yet clear that the reaction will be a slow push upwards in yields or something more significant, he said.
— With assistance by Brett Miller
Quotes from this Article
Before it's here, it's on the Bloomberg Terminal.
LEARN MORE