Five Things You Need to Know to Start Your Day
Get caught up on what's moving markets in Asia.
By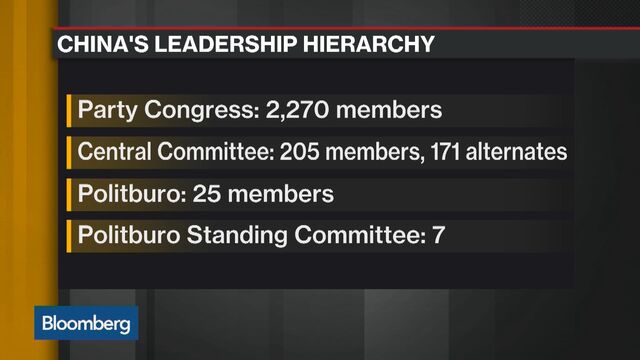 Want to receive this post in your inbox every morning? Sign up here.
China's congress ends, Trump's Fed pick imminent, and U.S. stocks snap a six-session winning streak. Here are some of the things people in markets are talking about.
That's A Wrap
The Chinese Communist Party's 19th Congress officially ends on Tuesday, with investors assessing President Xi Jinping's ability to amass more power and the leadership's commitment to economic reforms. Delegates will decide whether to enshrine some of Xi's ideological thoughts in their party charter – which would be the first time a leader's been embedded in the constitution before retirement since Mao Zedong. They'll also be asked to select a new Central Committee, which, on Wednesday, will choose who composes the Politburo and Standing Committee. Data released Monday showing more stability in the housing market will give Chinese policymakers cause for optimism. New home prices rose in only 44 of the 70 Chinese cities tracked by the government, down two from August to mark the lowest share of  metros with real estate appreciation since the start of 2016. Kicking off the congress last week, Xi said that houses are made to be lived in, not speculated on – a statement interpreted by analysts as implying that more curbs on buyers could be in the offing. Luke Spajic, head of portfolio management for emerging Asia at Pimco, said he doesn't expect broad deleveraging from the world's second-largest economy, though Beijing is likely to impose additional restrictions on housing activity.
'Very, Very Close'
U.S. President Donald Trump said he's "very, very close" to naming his pick to lead the Federal Reserve. In an interview that aired Sunday, he said Stanford University economist John Taylor as well as Fed Governor Jerome Powell and current Chair Janet Yellen are under consideration for the position. Powell and Taylor are rumored to be the front-runners; while the former would represent continuity, the latter's famous monetary rule could mark a meaningful shift in policy from the U.S. central bank. An announcement is expected before Trump's Nov. 3 trip to Asia. The president also gave an update of potential fiscal policy tweaks, tweeting that there will not be any changes to the tax treatment of workers' 401(k) contributions. Wall Street was ready to vociferously oppose  any reduction in the cap.
Bad Start
U.S. stocks sank to open the week, with tech and industrials shares leading the way down. Investors have been reluctant to hold high-flying FANG stocks ahead of earnings, with the group down for their fifth straight session. Shares of General Electric Co. also suffered their worst retreat in six years as analysts speculated that the manufacturing behemoth may be force to trim its dividend. West Texas Intermediate was little changed even as OPEC and other major oil producers reported a record level of compliance with their output curbs.
Surprise!
U.S. Secretary of State Rex Tillerson made surprise visits to Afghanistan and Iraq on Monday, during which he met with the nations' leaders in a bid to develop a more united front against Iran. The top U.S. diplomat has had an eventful and newsworthy trip in the region, albeit with limited success in mediating the ongoing dispute between Saudi Arabia and Qatar. Tillerson said he asked the Saudi crown prince, which has led a bloc in imposing economic restrictions against Qatar,  to engage in dialogue with its Gulf neighbor – but the request was refused. On Sunday, the Secretary of State called upon European governments to join the U.S. in imposing sanctions against Iran's Revolutionary Guard, and warned multinationals not to do business with the group.
Streak Over?
Nikkei 225 futures are trading well into negative territory ahead of the open after the gauge set a record Monday with 15 straight daily gains. S&P/ASX 200 futures are marginally lower. It's a light day for economic data, with October's preliminary reading of the Nikkei Japan manufacturing purchasing managers' index due out at 9:30 a.m. Tokyo time.
What we've been reading
This is what caught our eye over the last 24 hours.
Before it's here, it's on the Bloomberg Terminal.
LEARN MORE