EU Commission Denies Leaking Details of May and Juncker's Brexit Dinner
By
Source of report might be trying to frame EU, Commission says

Prime minister's office says it has no comment on the report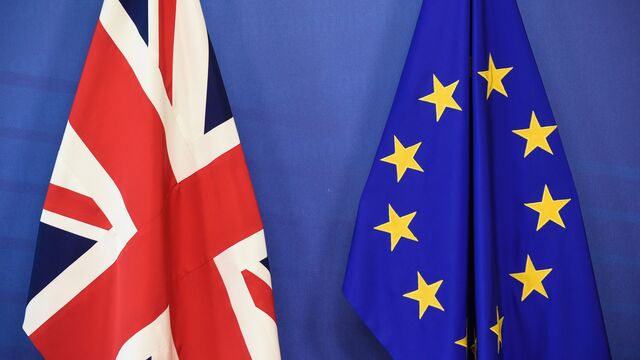 The European Commission didn't leak information about last week's Brexit dinner with U.K. Prime Minister Theresa May, its chief spokesman said, adding that the real source may be trying to undermine the negotiations.
A German newspaper reported on Sunday that May "begged for help" from Commission President Jean-Claude Juncker at the meal in Brussels on Oct. 16 and she appeared disheartened, tired and discouraged. Commission spokesman Margaritis Schinas said Juncker would never have used those words.
"Some people like to point at us to serve their own political agendas, their own political priorities or even to undermine our own negotiating position," Schinas told reporters in Brussels Monday. "We would appreciate it if these people would leave us alone. We have lots of work and no time for gossip."
Schinas refused to be drawn on the real source of the story, which appeared in the Frankfurter Allgemeine Sonntagszeitung. He said the EU is working toward a "fair deal" on Brexit and its position was never "punitive."
May's spokesman, James Slack, said on Monday that he had "no comment whatsoever" on the report.
The U.K. and the EU issued a joint statement after the dinner, in the Commission's Berlaymont headquarters, in which they said they would "accelerate over the months to come" the Brexit negotiations. At a summit on Friday, EU leaders postponed moving onto discussions about the two sides' future trading relationship until December.
Leaks to the German press following a similar meeting in London in April, after which Juncker was reported as saying he was "10 times more skeptical" of reaching a deal, were widely blamed on the Commission and criticized by German Chancellor Angela Merkel. At the time, EU government officials in Brussels blamed Martin Selmayr, Juncker's chief of staff.
Earlier on Monday, Selmayr took to Twitter to deny his involvement in the latest leaks, saying that they were an attempt to "frame" the EU.
"It seems some have interest in undermining constructive relations," between Juncker and May," he said. "Who? is the real question."
— With assistance by Thomas Penny, Viktoria Dendrinou, and Svenja O'Donnell
Before it's here, it's on the Bloomberg Terminal.
LEARN MORE