Deripaska's En+ Group Targets $8.5 Billion Valuation in IPO
By and
En+ Group to sell 15.8%-18.8% of the company's shares in IPO

Company announced price range at $14-$17 per GDR on Monday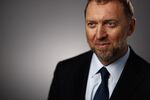 En+ Group Plc, the commodities company controlled by Russian billionaire Oleg Deripaska, may be valued as high as $8.5 billion before going public later this year.
That would put En+ among the ranks of Russia's 30 biggest public companies. En+ is planning to raise $1.5 billion in an initial public offering in November and priced the shares at $14 to $17 apiece.
"The price range seems quite fair and gives some upside for growth," Oleg Petropavlovskiy, an analyst at BCS Global Markets, said by phone. "It is unlikely to sell shares at the top end of the range, but has all chances to be in the middle of the range."
If successful, En+ will be Russia's biggest IPO since 2013 and will test investor appetite for commodity companies as the Russian economy digs out of its longest recession this century and raw-material prices approach multiyear highs. En+ owns a 48 percent stake in United Co. Rusal, the biggest aluminum producer outside China, and hydropower stations in Siberia.
Moscow, London
En+ plans to sell shares and global depositary receipts in Moscow and London. The price range released on Monday indicates a pre-IPO value between $7 billion and $8.5 billion. The IPO is expected to represent between 15.8 percent and 18.8 percent of the issued share capital on a fully diluted basis, excluding the over-allotment option.
BCS values En+ at $10 billion on a post-IPO basis and considers any valuation below $8.5 billion as attractive, according to Petropavlovskiy.
In the IPO prospectus, En+ disclosed a significant change in its ownership. Earlier this month, the company transferred a 6.9 percent stake to Polina Deripaska, according to the prospectus. Polina married Oleg in 2001 and is also the daughter of Valentin Yumashev, former chief of staff of the first Russian President Boris Yeltsin. Oleg has a call option on the shares and could choose to buy them back, the documents show.
Seperately last week, Glencore Plc agreed to swap its 8.75 percent stake in Rusal for En+ shares after the IPO is complete.
Other Investors
The Russian Direct Investment Fund is eyeing shares in the IPO, two people familiar with the matter said, asking not to be identified as the information isn't public. Representatives for En+ and RDIF declined to comment.
Another potential investor is Qatar's sovereign wealth fund, the Financial Times reported on Sunday, citing people with knowledge of the talks.
En+ has previously said it will sell $500 million of stock to China's AnAn Group, a cornerstone investor.
VTB Bank, which owns 4.35 percent of En+, can choose to sell the stake to Deripaska in December 2018, according to IPO prospectus. En+ plans to use the money from the IPO to repay some of the $942 million debt owned to VTB.
Quotes from this Article
Before it's here, it's on the Bloomberg Terminal.
LEARN MORE