Czechs Add to EU's Headache by Electing Euroskeptic Billionaire
By and
Czech mogul Babis scores dominant win in general elections

Babis calls party pro-EU but rejects euro and two-speed Europe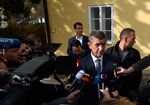 A dominant victory by the euroskeptic ANO party in the Czech Republic's parliamentary election has dealt another blow to forces pushing for deeper integration in the European Union and underscored the influence of anti-establishment parties in the bloc.
The party run by billionaire Andrej Babis, who opposes euro membership and blames terrorist attacks on Germany's immigration policy, won by a record margin and has started coalition talks. In a surprise, the Civic Democrats, who've pledged to abolish the Czechs' obligation to join the euro, finished second. The anti-Muslim Freedom and Direct Democracy, a party known as SPD that's called for the country to follow Britain out of the EU, finished fourth. In all, parties opposed to deeper integration won more than half of the vote.
ANO lacks the open hostility to the world's largest trading bloc that's exhibited by Austria's nationalist Freedom Party and Germany's AfD, which achieved strong showings in elections in the past month. But its criticism of interference from Brussels and the collapse of pro-EU parties means a Babis government will probably shift toward "more euroskeptic rhetoric" and complicate efforts by other leaders to boost cooperation, according to Vit Dostal, director of the international-relations think tank AMO in Prague.
"This has become a general trend -- we've seen it in the Dutch elections, in France, in Germany," Dostal said by phone. "This phenomenon, the rise of anti-establishment parties, shows that there's a widening gap between the winners and losers of globalization. And that in turn generates negative sentiment toward the EU, which is seen as the embodiment of globalization."
During the campaign, ANO criticized the EU for "meddling" and vowed to keep Muslim refugees out of what has been one of the countries least affected by Europe's worst migration crisis since World War II. After his victory, Babis called his party pro-European but stuck to his opposition to adopting the euro, a stance that resonated with voters in the bloc's most euroskeptic member.
He opposes any movement toward a "two-speed Europe" in which some countries may be left behind by a core of euro-using nations that agrees on deeper economic and other cooperation. That may already be happening to countries whose governments say they're pro-EU but don't follow through with policies that demonstrate that, according to Judy Dempsey, a fellow at Carnegie Europe.
"If you don't join the euro zone, frankly you'll become a second-tier country," Dempsey said. "The two-speed Europe is definitely on the cards. But in some ways the Czech Republic is already there."

Having drawn comparisons to U.S. President Donald Trump, Babis's opponents accuse him of conflicts of interest tied to his agriculture and media businesses and say that his pledge to run the government like a business smacks of authoritarianism. He was also charged by police in a criminal fraud case before the vote. The magnate, who's worth an estimated $4 billion, has repeatedly rejected the allegations, and the election has renewed his parliamentary protection against prosecution.
The Czech koruna gained 0.3 percent to 25.642 to the euro as of 12:32 p.m., extending the world's best currency rally to 5.4 percent this year. State bonds dropped, with the yield on the 10-year note rising 3 basis points to 1.68 percent, widening the premium over German securities to a five-year high of 124 basis points.
Click here for more on the Czech currency
ANO hit its first obstacle to forming a government after potential coalition partners declined to join the billionaire in a cabinet while he faces criminal fraud charges. While the second-richest Czech said he won't team up with the Communists and the SPD, he hasn't ruled out forming a one-party cabinet and seeking ad-hoc support from lawmakers from fringe or extremist parties to push through measures in parliament.
Still, he's a practical politician who pursues a "transactional" approach to politics rather than an ideology, according to Dostal at AMO. That differentiates him from Polish ruling-party leader Jaroslaw Kaczynski and Hungarian Prime Minister Viktor Orban, who've clashed with Brussels over democratic standards.
"Babis in an opportunist, but he's also a pragmatist," said Dempsey, from Carnegie Europe in Berlin. "He knows how important the EU is for the Czech economy. I'm not so sure he'll rapidly come out as a rabid anti-EU politician. It wouldn't serve his interests."
Before it's here, it's on the Bloomberg Terminal.
LEARN MORE