Czech Tycoon Finds No Takers as Coalition Talks Kick Off
By and
ANO's preferred partners signal intention to be in opposition

Creating single-party cabinet isn't 'realistic,' Babis says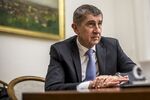 Czech billionaire Andrej Babis has struggled to find partners for a coalition government since his dominant election victory as potential allies signaled they would rather to go into opposition.
The second-richest Czech has held a series of inconclusive talks since his ANO party took 78 of parliament's 200 seats in the weekend ballot. His partners in the outgoing administration -- the Social Democrats and the Christian Democrats -- have rejected joining him in a new cabinet. The conservative Civic Democrats, who captured a surprise second-place finish and, like Babis, oppose euro adoption, have ruled out any cooperation with him. The three parties have cited criminal fraud allegations against the former finance minister as their reason.

The accusations, which Babis says were manufactured to sideline him from politics, add to the complicated task of coalition-building process in the country of 10.6 million, where elections usually lead to multi-party governments after lengthy talks. Some analysts have warned that protracted negotiations may trigger short-term volatility in financial markets, but Czech assets have largely held up well. Babis said he's planning more meetings aimed at forming a majority cabinet.
"We need the government to start working as soon as possible," he said after a meeting with President Milos Zeman, adding that he prefers a stable partner for the full four-year term because a single-party administration isn't realistic. "We'll do our utmost to persuade one party, or some parties, to enter the government with us."

The koruna extended gains on Tuesday as investors focused on the country's strong economic fundamentals and the prospect of higher interest rates. Babis said he wanted the next government to build on the successes of the outgoing cabinet, from which he was fired as finance minister in a clash with Prime Minister Bohuslav Sobotka.
The agriculture and media baron also said he wouldn't work with the anti-Muslim SPD party or the Communists. In his election campaign, he promised to increase spending on highways and railroads and reduce income taxes for lower earners, without levying a bigger burden on companies. He wants to finance his plans with better tax collection and savings by improving state operations, and would allow a budget shortfall only if it's caused by investment.
Babis has said the Civic Democrats, also known as ODS, would be his most preferred coalition partner. The two parties will hold formal talks later on Tuesday even as ODS leaders already rejected any form of cooperation with the tycoon.
"Our position is clear," ODS Chairman Petr Fiala told reporters. "I think everybody should get used to it. We won't negotiate with ANO about a government, or any similar form of support."
QuickTake Q&A about Babis's program and charges against him
Babis was charged by police in a criminal fraud case before the vote, but the charges were suspended after the election renewed his parliamentary immunity against prosecution. He has at least a month for more talks before parliament convenes for its inaugural session, expected around Nov. 20.
The case still casts a shadow over government negotiations as potential partners cite it as a reason for nor cooperating with the billionaire. The leadership of the Christian Democrats, a center-right party also known as KDU-CSL which shares some policy agenda with Babis's pro-business ANO, on Tuesday recommended that the party go into opposition.
"We don't think that a combination is emerging that would be beneficial for the Czech Republic or worthy of the support from KDU-CSL," Chairman Pavel Belobradek said on public television.
Before it's here, it's on the Bloomberg Terminal.
LEARN MORE