BOE Policy Makers Will be Wary of Making a Premature Hike
By
History may lump a move in with other famous mistakes

Former rate setters also see risk of waiting too long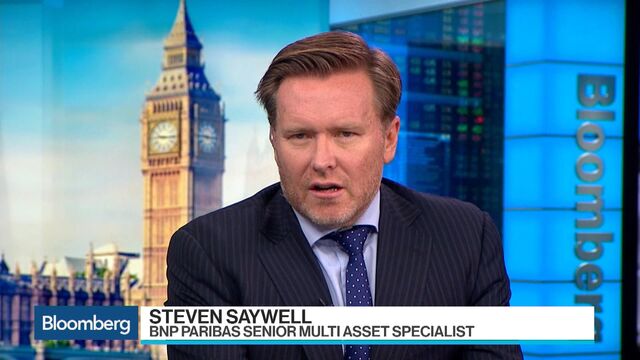 As the Bank of England considers raising interest rates for the first time in a decade in November, policy makers will be mindful that the history of central banking is littered with premature hikes.
Banks including UBS AG and UniCredit have expressed concern that tightening now would be a mistake, and business groups such as the British Chambers of Commerce have called on the BOE to wait. If Governor Mark Carney raises and history proves unkind, he would join the European Central Bank and the Bank of Japan in the pantheon of those who damaged economies by moving too soon.

Carney faces a tough dilemma. Wage growth is slowing and retail sales are faltering, while the specter of the U.K. leaving the European Union with no deal in place continues to loom large as a result of deadlocked negotiations. Economists are forecasting subdued third quarter growth after a sharp slowdown in the first half of the year. At the same time, inflation is a full percentage point above the BOE's 2 percent target and unemployment is at a four-decade low.
Policy makers acknowledge the risks of getting it wrong. Silvana Tenreyro talked about the "asymmetry" of moves when she spoke to lawmakers last week. "A premature increase might be very contractionary, more so than the equivalent decrease in the rate. If there is a mistake there, it can be costly."
Traders pared bets on a hike on Nov. 2 after dovish comments from the Monetary Policy Committee's Dave Ramsden and Jon Cunliffe last week. Traders are pricing in about an 80 percent chance of a 25-basis point increase, down from as high as 89 percent earlier this month.
Officials often "have to make decisions with information and data that aren't as clear cut as they would like," said Martin Weale, who served on the MPC from 2010 to 2016 and is now a professor at King's College London. "If you wait until you're absolutely sure, then you can be sure that you've waited for too long."
Examples of mistakes go back to at least the Great Depression, when the Federal Reserve and other central banks miscalculated and worsened the slump, but the BOE doesn't need to look that far. In 2008 and 2011, the ECB President Jean-Claude Trichet raised borrowing costs to combat accelerating inflation but had to quickly change course. Japan twice tried to exit from loose policy as the country appeared poised to emerge from deflation, first in 2000 and then in 2006. In both cases, it was forced to ease again soon after.
Other Errors
Sweden's Riksbank also raised its benchmark in 2010, only for inflation to plunge, prompting it to cut anew and into negative territory. New Zealand changed course twice in the wake of the worldwide recession as growth and inflation suffered.
Carney's arguments for a hike are mainly centered on the erosion of slack in the economy. Shrinking spare capacity probably means that inflation is starting to build, even though growth is slower than when the BOE has raised interest rates in the past.
Carney also has to worry about credibility. He has previously come under fire for hinting at rate increases that never arrived, with one lawmaker branding him an "unreliable boyfriend" in 2014. That label has stuck with him ever since, and, even though he has stuck resolutely to the MPC's "coming months" language in recent comments, he's under pressure to deliver this time.
In a Nomura survey of 80 clients, 42 percent said a hike next month would be an error, even though most said they expect it to happen. Those respondents said it's "simply not needed" and that officials have boxed themselves into a corner.
But for David Miles, who left the MPC in 2015, policy makers mustn't let themselves get bogged down in the debate over whether their action might be a mistake.
"You just knock that on the head immediately," he said. "There is significant uncertainly always. To wait until the point at which it's not risky to raise interest rates, you will wait until the end of time."
— With assistance by Jill Ward
Before it's here, it's on the Bloomberg Terminal.
LEARN MORE