Balance of Power: Tillerson Hits Limits of Exxon Diplomacy
By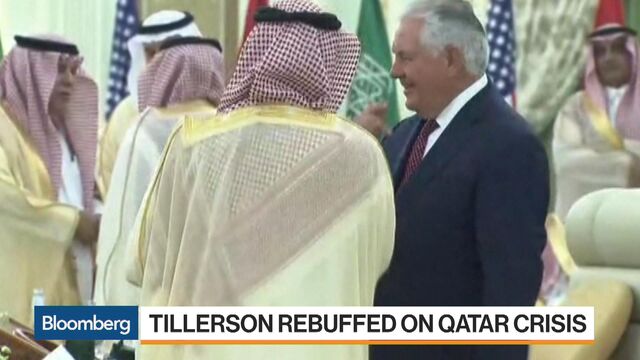 If there was one place where Rex Tillerson's past at Exxon Mobil was supposed to help him as secretary of state, the thinking went, it was the Gulf region.
No diplomat seemed better suited to resolve a crisis that broke out in June when four countries isolated Qatar over its alleged support for terrorism. After a 41-year career at Exxon, Tillerson knew the players well. He'd forged bonds with them after countless rounds of talks to win gargantuan energy deals.
But Tillerson is finding Gulf leaders less willing to bow to his demands without Exxon's billions behind him. Visiting Riyadh and Doha this week, he conceded the crisis is deadlocked, frozen by a Saudi refusal to negotiate.
That's a problem for Tillerson, who needs a united stance to confront Iran.
"Anytime there is conflict and destabilization among countries that are typically allies, someone will always come in to exploit those differences," Tillerson said yesterday.
A bigger problem would be if Gulf leaders believe President Donald Trump supports the hard-line position and is running the show. Tillerson's once-formidable power, it turns out, might be greatly diminished.

Sign up to receive the Balance of Power newsletter in your inbox, and follow Bloomberg Politics on Twitter and Facebook for more.
Global Headlines
Japan's pacifism tested | Speaking a day after the ruling party won a landslide election, Prime Minister Shinzo Abe pledged a broad consensus to change the constitution imposed by the U.S. after World War II. Abe says the move is necessary to ensure the legality of Japan's Self-Defense Forces in the face of a growing threat from North Korea. It won't be easy: The new top opposition party firmly opposes amendments, and polls show the public - which needs to approve the measure in a referendum — is evenly split.
Spain's shock and awe | Prime Minister Mariano Rajoy announced unprecedented measures to oust the Catalan government and seize control of regional institutions as he tries to stamp out the separatist movement once and for all. It'll be another week or so before Rajoy's plan gets approval from the Senate, giving officials in the rebel region time for one more play at least. That might just be a declaration of independence. 
Tax cut for whom? | Republicans love the idea of cutting taxes - figuring out who will get the biggest breaks is the hard part. Trump has vowed the middle class would be the main beneficiaries under his tax plan, but estimates indicate top earners would reap the biggest gains. That's left them vulnerable to pushback from their own members and attacks from Democrats.
Euroskeptic triumph | The domination of weekend elections by Czech billionaire Andrej Babis's ANO party dealt another blow to forces pushing for deeper integration in the European Union. Parties that resist closer cooperation, including one that urges Czechs to harass Muslims, took more than half of votes in another sign anti-immigrant populism is gaining ground in Europe. 
Macri's sweep | In Argentina, President Mauricio Macri beat back a populist challenge. His program of opening up the economy received a critical boost yesterday with his Cambiemos alliance set to sweep the largest districts, including the Buenos Aires province. The result takes the wind out of the sails of ex-President Cristina Fernandez de Kirchner, who represented a return to the economic protectionism that marked the previous decade.
And finally... Indonesia, the world's most populous Muslim democracy, has never been included in Trump's travel ban. But that hasn't stopped the archipelago from being thrust into a controversy that's prompted an apology from Washington. Indonesia's military chief, Gatot Nurmantyo, was prohibited from boarding a flight Saturday to attend a conference on countering violent extremism - despite having been invited by U.S. Joint Chiefs Chairman Joseph Dunford. Although the general was later cleared for travel, Indonesia still wants to know why he was stopped in the first place.

— With assistance by Kathleen Hunter
Before it's here, it's on the Bloomberg Terminal.
LEARN MORE