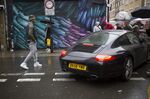 When tourists arrive in the U.K. one of the first things they tend to notice is that Brits all seem to drive flashy cars.
Indeed, thanks to an abundance of cheap leasing, British consumers haven't needed a six-figure salary to drive away a six-figure vehicle from the dealership in recent years. Mercedes-Benz and Porsche sales in the U.K. have more than doubled since 2011, meaning the country has been a big source of profit. 1   

But if Monday's trading update from car dealer Pendragon Plc is a guide, the love affair with luxury motors appears finally to have hit a pothole.
Pendragon's gross profit from selling new and used cars fell more than 20 percent in the third quarter and the full-year pretax profit is expected to be about one-fifth lower than the year before. The shares slumped as much as 23 percent, dragging down other car dealers. 
What's going on? Contrary to the blue-sky optimism put about by some Brexit supporters, the U.K. economy has weakened. Business is delaying investment and consumers are worried. Retail sales grew at their weakest pace in four years in the third quarter. New car sales have fallen for six consecutive months; they were 9 percent lower in September (compared to the prior year).
Until now, premium vehicles have held up better than the mass market, with one caveat: Pendragon says luxury carmakers have been pushing sales into the U.K. despite softening demand, creating "unprecedented" margin pressure. In their desperation to meet sales targets, some prestige car dealers have been taking new vehicle inventories, registering them and selling them to consumers with a steep discount, it says.
This practice, known as self-registration, effectively turns a new car into a used one. But it has a negative knock-on impact on new and used car pricing. 
That's worrying because second-hand car pricing could turn out to be the Achilles heel of the British car market. Because of the huge volume of new cars that were leased in the past few years, a surfeit of nearly-new vehicles is about to hit the used market, as I explained here. You don't have to be an economist to know that when supply increases, price tends to fall—unless demand picks up the slack. A sharp fall in residual values could also force auto manufacturers to book writedowns on their leasing portfolios.
Like an over-inflated airbag, there's plenty to suggest the British car market is in bubble territory. Pendragon is another sign it may be ready to burst.
Before it's here, it's on the Bloomberg Terminal.
LEARN MORE