Bill Ackman Wins Advisers' Support in Push for Change at ADP
By
Glass Lewis calls ADP response to activist 'underwhelming'

Egan-Jones says board's 'complacency' led to underperformance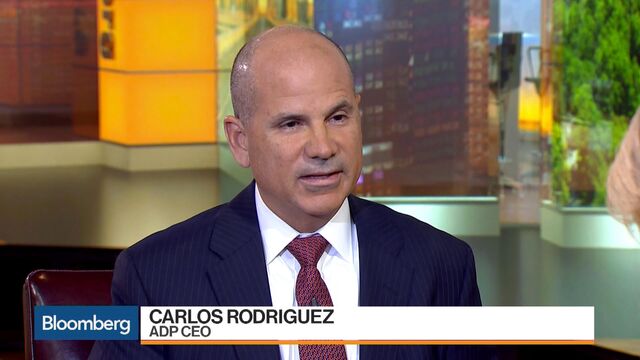 Two shareholder advisory firms have thrown their support behind Bill Ackman's push for three seats on the board of Automatic Data Processing Inc.
Glass Lewis & Co. issued a report Monday urging shareholders to vote for Ackman's slate of nominees, saying the activist investor has put forth a convincing case that ADP is underperforming its potential. The payroll and human relations outsourcing company's size and scale advantage have bred complacency that's causing it to lose ground to smaller competitors, according to the report.
"Rather than supporting the status quo, we believe investors have an opportunity to convey their discontent with the board's continuation of a potentially sub-optimal business plan, and to encourage fresh perspectives, analysis and discussion in the boardroom of the best path forward for ADP," Glass Lewis said in its report.
ADP said in a statement it continues to recommend that shareholders vote for its slate of directors, saying the nominees put forth by Ackman's Pershing Square Capital Management lack the relevant experience.
"We strongly disagree with Glass Lewis' recommendation, which does not take into account the significant business risk inherent in Pershing Square's margin expansion target, nor the negative impact it would have on client retention and ADP's overall business," the Roseland, New Jersey-based company said.
Egan-Jones Proxy Services also issued a report Monday throwing its support behind Ackman.
"We are compelled to support Pershing Square's set of nominees because in our view, ADP's complacency resulted to the board and management's failure to acknowledge the company's underperformance in the recent years," Egan-Jones said. "Pershing Square's presentation of the indicators of operational inefficiency is a credible ground why change is warranted in the board room."
'Owner's Perspective'
ADP rose 1 percent to $117.01 Monday in New York, giving the company a market value of $52 billion.
Pershing Square disclosed an 8.3 percent stake in ADP in stocks and options in August and is seeking three seats on the board, including one for Ackman. Glass Lewis said it believed New York-based Pershing Square's candidates carried relevant experience and that Ackman would bring an "owner's perspective" to the board.
"We are extremely pleased to receive such a strong endorsement from Glass Lewis," Ackman said in a statement Monday.
The billionaire investor has been meeting with ADP shareholders to make his case that the human resources consulting firm company, despite a 13 percent profit margin for the year ended June 30, is falling behind rivals by not performing at its full potential. His criticisms have been aimed at what he claims are inefficiencies and a lack of innovation that he blames on ADP's "buy not build" strategy. He contends the company is losing ground to smaller competitors because of a bloated and insular culture.
Margin Improvement
ADP has resisted Ackman's push for change, saying the proxy fight has been a major distraction for the company and was based on inaccurate information. ADP has put forth its own slate of 10 nominees, including Chief Executive Officer Carlos Rodriguez, for the board at the company's annual general meeting Nov. 7.
MORE: Exclusive interview with ADP's chief executive officer, Carlos Rodriguez
Rodriguez has argued that the company is already five or six years into a transformation and has the right plan in place to improve margins by 500 basis points over the next three years. Ackman's plan to improve margins by 1,200 basis points by June 2021 is risky and could potentially alienate ADP's clients, Rodriguez said in an interview on Oct. 18.
Glass Lewis said it believed ADP's performance could be significantly improved through a partly reconstituted board, including the Pershing Square nominees.
"In our view, the board's response, or lack thereof, to the substance of Pershing Square's argument leaves much to be desired by shareholders," the report said. "Similarly, the board's stated operational and financial plan strikes us as being inadequate and underwhelming given the substantial opportunity thoroughly detailed by Pershing Square."
Before it's here, it's on the Bloomberg Terminal.
LEARN MORE