Abe Vows to Seek Consensus on Constitution After Election Win
By
Ruling coalition retains two-thirds majority in parliament

Reforms may take a backseat to changing pacifist constitution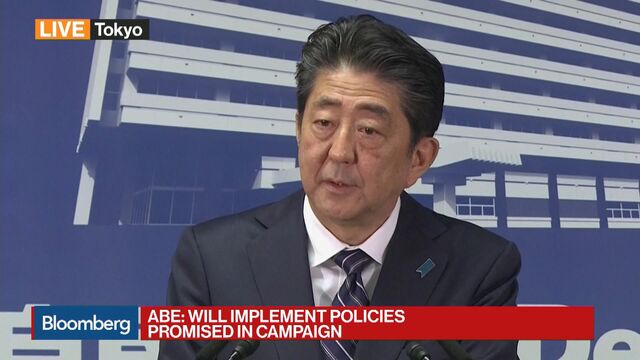 A day after a landslide election victory, Prime Minister Shinzo Abe pledged to seek a broad consensus on revising Japan's 70-year-old pacifist constitution and reiterated there was no fixed schedule for change.
Abe, 63, saw his ruling coalition retain its two-thirds majority in the 465-member lower house on Sunday, bolstering his chances of staying in office through 2021. While the margin of victory makes it easier to change the constitution, any shift could spark unease in China and South Korea, where memories of Japan's past aggression run deep.
"This was the first election in which we made constitutional change a main pillar of our policy platform," Abe told reporters in Tokyo on Monday. "We want to consider a revised draft within the party" and "make efforts to build a broad agreement among ruling and opposition parties."
While Abe's ultra-easy monetary policy has boosted stocks to the highest level in two decades and helped Asia's second-biggest economy expand for six straight quarters, pressure is growing for him to tackle Japan's swollen debt and increase stagnant wages. Switching focus to the divisive issue of the constitution risks putting economic issues on the backburner.
"With a win on this scale, probably changing the constitution will become the main theme," said Hiro Kishi, a former trade ministry official who is a professor at Keio University. "The chances have grown that reforms will not progress."

Unofficial tallies showed the LDP winning 284 seats and its coalition partner Komeito taking 29 as of 3:30 p.m. Monday in Tokyo -- roughly similar to the split after the 2014 election. Five parties and independents took the rest. Two seats had yet to be called.
The Constitutional Democratic Party, set up only about two weeks ago by former Chief Cabinet Secretary Yukio Edano after its predecessor split up, had 55 seats. Tokyo Governor Yuriko Koike's upstart Party of Hope, which briefly jumped in opinion polls last month, won 50 seats.
Abe has proposed a constitutional revision affirming the legality of Japan's Self-Defense Forces. Still, his Buddhist-backed coalition partner Komeito is ambivalent about any such change, and the new main opposition CDP has made clear it will resist his plans. That means the LDP is likely to seek cooperation from right-wing opposition parties.
Any constitutional change must also be approved in a public referendum. An opinion poll carried out by the Yomiuri newspaper Oct 7-8 found 48 percent of respondents in favor of Abe's plan, while another survey by the Asahi newspaper in September found 39 percent agreed with him.
Analysts aren't expecting anything to happen quickly though, particularly after Abe backed down on a plan to change the constitution by 2020. In the CDP, Japan has an opposition organization clearly focused on retaining the current constitution.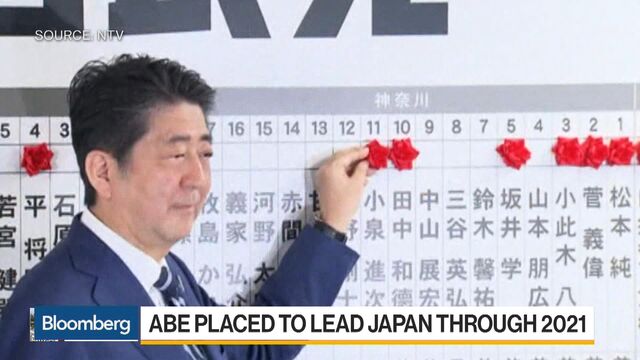 "You have a party now that campaigned on it and has no problem taking an anti-revision stance," Tobias Harris, a Japan analyst at Teneo Intelligence in Washington, said of the CDP. "They have activated a volunteer network and if they find themselves in the position of having to mobilize against a referendum, they have the tools in place to do that."
Abe has called for more pressure on North Korea and strengthened the U.S. alliance by cozying up to President Donald Trump, who is scheduled to visit Japan next month to kick off a trip through Asia.
To read an article on corporate winners and losers, click here.
In power since 2012, Abe touted his economic record on the campaign trail. Unemployment is at less than 3 percent and a weakened currency has bolstered exports.
The yen fell 0.16 percent to 113.71 per dollar as of 3:18 p.m. in Tokyo, after hitting its lowest level in more than three months. The benchmark Nikkei 225 Stock Average rose for the 15th straight day to mark its longest winning run on record.
One major decision for Abe over the next few months will be whether to retain Haruhiko Kuroda as Bank of Japan governor when his term expires in April. Some LDP members have expressed concern about the central bank's unprecedented easing, which included surprise moves to introduce negative interest rates and an innovative yield-curve control program.
Read about what Abe's win means for BOJ policy
"The economy is growing, the yen is weak, and so Abe wants to keep the status quo on the economy without any disruptions," Takuji Okubo, Tokyo-based chief economist at Japan Macro Advisors, said by phone. "He doesn't want to use political capital on labor market reforms or corporate tax cuts."
— With assistance by Takashi Hirokawa, and Emi Nobuhiro
Before it's here, it's on the Bloomberg Terminal.
LEARN MORE