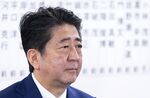 Can Shinzo Abe deliver a generational shift? His second majority win comes at an interesting time for Japan's stock market. The Nikkei 225 and Topix are once again challenging a ceiling of resistance that's been in place since the early 1990s.
By all accounts, the nation's shares haven't overshot. Commodity Futures Trading Commission data show speculators are net long CME Nikkei futures, by 13 percent as a proportion of total open interest. Over the past decade, only readings that have come in above 25 percent signal a crowded market, according to CLSA technical analyst Laurence Balanco. Meanwhile, foreign institutional investors are tiptoeing back.

And equities are cheap. The Topix trades at just 15.4 times 2017 earnings, a good 20 percent discount to the S&P 500 Index. Using book value as a metric, the contrast is even more stark. Japan's share market is valued at 1.4 times book; the S&P 500 trades at 3.2 times.
But a few words of caution. Abe's position isn't as powerful as it may seem, especially compared with the last snap election of late 2014. The Bank of Japan has essentially given up any sway over the yen after pegging 10-year government bond yields to zero in January 2016. Since then, the currency has been more closely correlated to U.S. interest rates, or Donald Trump's mood swings.
Plus the hefty discount that investors in Japan suffer is a sign that a cornerstone of Abe's third arrow -- improving corporate governance -- isn't working. The tangible book value per share of Topix companies has been expanding since the 2014 polls. In the U.S., companies have been steadily shrinking their balance sheets via share buybacks.

One could blame the BoJ for holding stock markets back. Financial firms, which constitute 12.5 percent of the Topix, will always find it tough to make money when the central bank is keeping interest rates artificially low.
But the failure is also part theirs: Japan's three megabanks -- Mitsubishi UFJ Financial Group Inc., Mizuho Financial Group Inc. and Sumitomo Mitsui Financial Group Inc. -- could have realized almost 7 trillion yen ($61.5 billion) in capital gains had they sold their equity holdings at the end of June. Bank of Kyoto Ltd.'s 682 billion yen of stakes in other companies is now worth more than the regional lender's market capitalization. 
There is tentative evidence investors are starting to reward Japanese firms with better corporate governance. Abe needs to seize this moment and make balance-sheet reform a true priority.
Before it's here, it's on the Bloomberg Terminal.
LEARN MORE