U.K. Sees Diplomacy Key to End Standoffs With Iran, North Korea
By
Johnson delivering speech in London about global security

Foreign secretary to highlight past diplomatic successes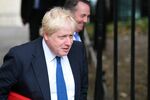 Diplomacy is the key to resolving nuclear standoffs with North Korea and Iran, U.K. Foreign Secretary Boris Johnson is expected to say on Monday, in a departure from the more confrontational approach of U.S. President Donald Trump.
Diplomatic efforts to arrest the spread of nuclear weapons "helped to make the world safer, more secure, more confident and therefore more prosperous," Johnson will say in a speech Monday about global security at Chatham House in London, according to remarks emailed by his department.
Johnson plans to highlight the success of the 1970 Nuclear Non-Proliferation Treaty, calling the "nuclear umbrella" provided by the U.S. "one of the greatest contributions by America to the unprecedented epoch of peace and prosperity that we have all been living through."
"It has helped avoid what might otherwise have been a Gadarene rush to destruction, in which the world was turned into a great arena of Mexican stand-offs, a nuclear version of the final scene of Reservoir Dogs," Johnson will say, according to the remarks. "That far-sightedness is now needed more than ever, not only to keep the NPT, but also one of its most valuable complementary accords, the nuclear deal with Iran."
Johnson's comments avoid the more bellicose language used by Trump, who has said on Twitter that diplomacy with North Korea is a waste of time -- even as Secretary of State Rex Tillerson pursued diplomatic options. On Oct. 7, Trump tweeted that "only one thing will work!" in dealing with Kim.
Johnson's speech will signal to North Korean dictator Kim Jong-Un that while war remains an option to resolve a stand-off over his development of nuclear weapons, the regime can avert conflict if it "changes course." His comments about Iran are also a signal to Trump that the deal between Iran and the U.S., Germany, the U.K., France, Russia and China should remain in place.
The U.S. president has called it "one of the worst and most one-sided transactions the United States has ever entered into."
Before it's here, it's on the Bloomberg Terminal.
LEARN MORE