McConnell Says He Hasn't Given Up on Tax Plan Being Revenue-Neutral
By , , and
Senate leader says tax details to be hashed out in the open

Budget director Mulvaney says higher growth will lower debt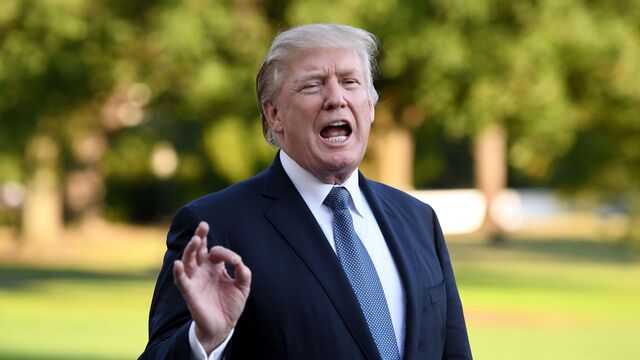 The Republican Party hasn't abandoned the goal of making President Donald Trump's tax-cut plan revenue neutral and can make it so by lifting economic growth, Senate Majority Leader Mitch McConnell said.
"Actually we're not, because that's a rather conservative estimate of how much growth you'll get out of this pro-growth tax reform," McConnell said on "Fox News Sunday" when asked if hoped-for tax cuts would increase the federal budget deficit.
In interviews on Fox and on CNN's "State of the Union," McConnell declined to go into the details of the plan, including whether he favors an additional tax bracket for the wealthiest Americas or how tax treatment of 401(k) plans might be changed.
"It's going to be hashed out in the open," McConnell said on Fox.
McConnell's comments came as Trump and Vice President Mike Pence joined a House Republican conference call Sunday afternoon to build momentum for the tax legislation, said a person familiar with the plans.
Trump urged House members to adopt the Senate budget this week and follow through on the tax overhaul, saying, "We are on the verge of doing something very, very historic," the person said. House Budget Chairman Diane Black of Tennessee told members that she supports passage of the Senate budget this week to allow for quicker action on taxes, according to the person.
The Senate on Thursday adopted a fiscal 2018 budget resolution that House Republican leaders agreed to accept, a show of unity aimed at speeding consideration of Trump's plan to enact tax cuts. Final approval of the budget measure will unlock a special procedure allowing Republicans to pass a subsequent tax code rewrite without Democratic support.
Mick Mulvaney, director of the White House's Office of Management and Budget, said on "Fox News Sunday" that approving a bill by December is realistic. Congress may save as many as 10 or 12 legislative days with the House acting quickly on Senate amendments, he said.
No Added Bracket
The White House doesn't necessarily want to add a new top individual income-tax bracket for the wealthy, but supports whatever it will take for Congress to move a bill, Mulvaney said. The administration is still pushing for a 15 percent corporate rate, down from the current 35 percent, while the House leadership wants a 20 percent rate, he said.
Trump still thinks ending the carried-interest tax break, the portion of an investment fund return that's paid to managers, is something that "needs to be looked at very, very closely," Mulvaney said on CBS's "Face the Nation," according to a transcript provided by the network.
A senior White House official said in September there isn't consensus about what to do about carried interest, while Trump continues to support its elimination.
Three-Percent Growth
On the federal debt, Mulvaney said on Fox that balancing the federal budget merely by cutting spending hadn't worked, a failure he tied to "politics." Instead, the U.S. can reduce its debt by lifting economic growth to more than 3 percent, he said.
"We ought to be growing about 3 percent a year," McConnell said on CNN.
Senator Sherrod Brown, an Ohio Democrat, said on CNN that Trump is "at a fork in the road" on tax policy:
"If he throws in with McConnell and the billionaires, Democrats don't support it. If he chooses to fight for the middle class and help those companies keep production in the United States, not the bill that McConnell has, if he does that, it's a bipartisan bill."
Brown said the trickle-down effects of a tax cut for the wealthy being urged by "the people closest to the president" haven't worked "from Hoover to Bush to Bush Two."
— With assistance by Justin Sink
Before it's here, it's on the Bloomberg Terminal.
LEARN MORE