politics
Yellen at White House for Routine Cohn Meeting, Official Says
By and
Trump expected to announce his Fed chair nominee soon

Close advisers are steering Trump toward Taylor or Powell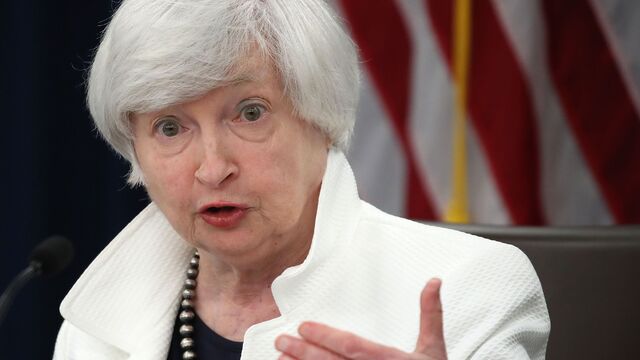 Federal Reserve Chair Janet Yellen was back at the White House Friday for a routine meeting with economic adviser Gary Cohn, a U.S. official said, a day after President Donald Trump interviewed her for a potential reappointment to her job.
Cohn, director of the National Economic Council, is also a contender for the Fed post. The official, who spoke on condition of anonymity, said Yellen's meeting with him was a recurring lunch the two have.
Trump has said he's considering five candidates for Fed chairman and that he'll make a decision soon. Yellen's first term ends in February. The other contenders include Stanford University economist John Taylor, Fed governor Jerome Powell and former Fed governor Kevin Warsh.
Ten-year U.S. Treasury prices gained on news that Yellen was spotted at the White House, lowering yields to 2.37 percent on investor expectations that the visit improved Yellen's chances of a second term, which would keep the central bank on its path of gradual interest-rate increases.
Yellen's meetings with Cohn are fairly routine. Her daybooks show she met with him on at least five other occasions this year.
Trump sat down with Yellen at the White House Thursday for half an hour. Trumps closest advisers, including Vice President Mike Pence and his aides and Treasury Secretary Steven Mnuchin, are steering Trump toward appointing either Taylor or Powell, according to two people familiar with the process.
All the candidates performed well in their meetings with the president over the past several weeks, according to two people. Cohn never officially interviewed with Trump because the president already knows his top economic adviser quite well and doesn't think it is necessary, they said.
An announcement from Trump is unlikely to come this week, according to two White House officials. He's expected to unveil his selection before he leaves Nov. 3 for an 11-day trip to Asia and Hawaii.
Before it's here, it's on the Bloomberg Terminal.
LEARN MORE