White House Defends Kelly's Criticism of Lawmaker, Despite Video
By and
President's chief of staff called Congresswoman 'empty barrel'

Support for Kelly despite video showing claims were inaccurate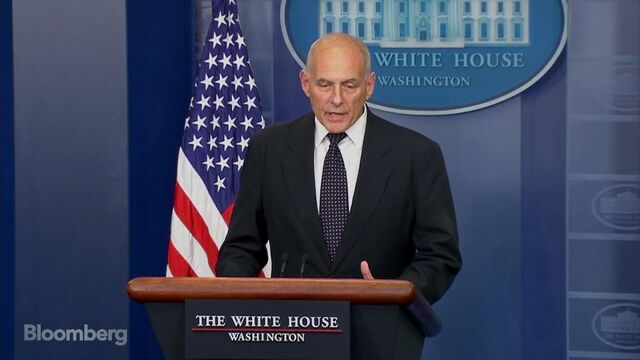 Donald Trump slammed Representative Frederica Wilson in a tweet a day after the White House defended Chief of Staff John Kelly's criticism of the Democrat, even as a video showed some of Kelly's claims were inaccurate.
"I hope the Fake News Media keeps talking about 'Wacky' Congresswoman Wilson in that she, as a representative, is killing the Democrat Party," Trump said on Saturday to his 41 million followers on Twitter. Wilson had said this week the president was insensitive in a phone call to the widow of a slain service member.
In response, Kelly accused Wilson, of Florida, of promoting herself in a speech at the dedication of a South Florida FBI office and trumpeting money she secured for the building. He contrasted her speech with that of former FBI Director James Comey, who Kelly said had memorialized the fallen FBI agents for whom the building was named.
"In a long tradition of empty barrels making the most noise," Kelly told reporters on Thursday, Wilson "stood up there in all of that and talked about how she was instrumental in getting the funding for that building, and how she took care of her constituents because she got the money, and she just called up President Obama, and on that phone call, he gave the money, the $20 million, to build the building."
A video of the event released Friday by the Sun Sentinel, a newspaper based in South Florida, showed that Kelly mischaracterized Wilson's remarks. The video shows that Wilson never claimed credit for securing funding for the building, which was authorized before she entered Congress.
She did at one point in her speech discuss her work to name the building after the slain FBI agents, though the lawmaker says the speed with which the legislation passed through Congress was a testament to the respect among lawmakers for law enforcement. During the speech, Wilson discussed the dangers faced by FBI agents every day and asked law enforcement and other emergency workers to stand to be recognized.
'That's a Lie'
During an appearance earlier Friday on CNN, Wilson accused Kelly of lying about the incident.
"I was not even in Congress in 2009 when the money for the building was secured," she said. "So that's a lie."
The White House, facing criticism and questions about Kelly's statements after the video was published, issued a statement.
"Gen. Kelly said he was 'stunned' that Rep. Wilson made comments at a building dedication honoring slain FBI agents about her own actions in Congress, including lobbying former President Obama on legislation," White House press secretary Sarah Sanders said in the statement. "As Gen. Kelly pointed out, if you're able to make a sacred act like honoring American heroes about yourself, you're an empty barrel."
Sanders later told reporters at a briefing that Wilson's speech amounted to "a lot of grandstanding." She also chastised reporters for challenging Kelly: "I think that if you want to get into a debate with the four-star Marine general, I think that's something highly inappropriate."
Trump himself criticized four-star Marine General John Allen in July 2016.
"General John Allen, who I never met but spoke against me last night, failed badly in his fight against ISIS. His record = BAD #NeverHillary," Trump said in a tweet.
Defending Trump
Kelly's statements about Wilson and her 2015 speech were part of a long defense of his boss's call to Myeshia Johnson, the widow of Army Sergeant La David Johnson, who was killed in Niger this month. Wilson said Trump had told Johnson that her husband "must've known what he signed up for," and Wilson's mother subsequently told the Washington Post that the family felt Trump's comments were disrespectful.
Kelly said he was "heartbroken" that Wilson had leveled the criticism and "stunned" that she listened into the phone call.
Trump tweeted Thursday night that Wilson's account of the incident was a "total lie." But Kelly, who listened to the call from the White House, implicitly confirmed Wilson's account and said that the president's remarks echoed sentiments he had shared with him as Trump prepared to call the grieving widow.
Trump ignited the controversy on Monday when he was asked at a news conference why he hadn't said anything publicly about Johnson and three other soldiers killed in an ambush almost two weeks earlier. The president said he would write the families and planned to call them. He then contended that most of his predecessors didn't make such calls, a claim disputed by allies of former presidents Barack Obama and George W. Bush.
He followed that up in an interview with Fox News Radio by suggesting that Obama never called Kelly after his son, a Marine second lieutenant, was killed in Afghanistan in 2010.
Kelly said Thursday that Obama did not call him, but that he didn't fault the former president for it. He had advised Trump not to call the families of soldiers killed in action, he said, "because it's not the phone call that parents, family members are looking forward to."
— With assistance by Adveith Nair
Before it's here, it's on the Bloomberg Terminal.
LEARN MORE