Automation on Wall Street Is Coming Sooner Than You Think
Five big ideas that made the week interesting, and the stories behind them.
By and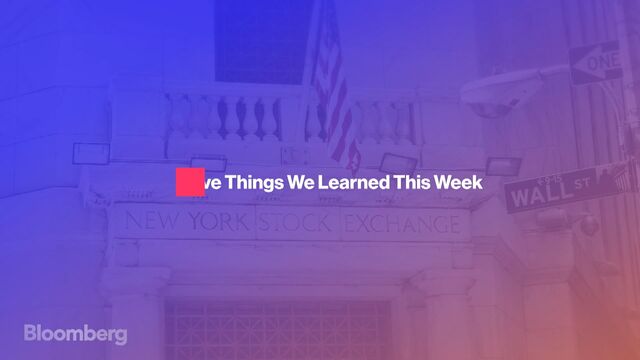 1) These Are the Finance Jobs Vulnerable to Being Wiped Out
Wall Street firms are pushing to develop software that can suggest trades and structure complex hedges, long the domain of stock pickers and derivatives sales staff. Firms are also experimenting with automated analysis of legal documents. Some investors and executives have been predicting major job losses once people are replaced. Bloomberg's Saijel Kishan, Hugh Son and Mira Rojanasakul mapped out exactly which jobs are vulnerable to being replaced by computers—and when. The good news for humans: Robots haven't been as quick to figure out markets where trading is sometimes opaque or volume is low, such as credit trading. More liquid markets, such as equities and currencies, are easier to master.
2) Markets Are Shrugging Everything Off These Days
There once was a time when risk managers' phones would ring off the hook at the faintest whiff of trouble. But something's changed. Donald Trump could tap out a tweetstorm, a North Korean missile could fly over Japan, or there could even be a terrorist attack—but now there's barely a phone call. "That's absolutely crazy," said Mark Connors, Credit Suisse's global head of risk advisory. What's changed? Investors are now embracing their speculative side, write Bloomberg's Dani Burger, Elena Popina and Lu Wang. Some say this is normal behavior during the late stages of a long-lasting bull market. Investors are worried that they'll miss out on money if they don't lean in: They are "buying the dip."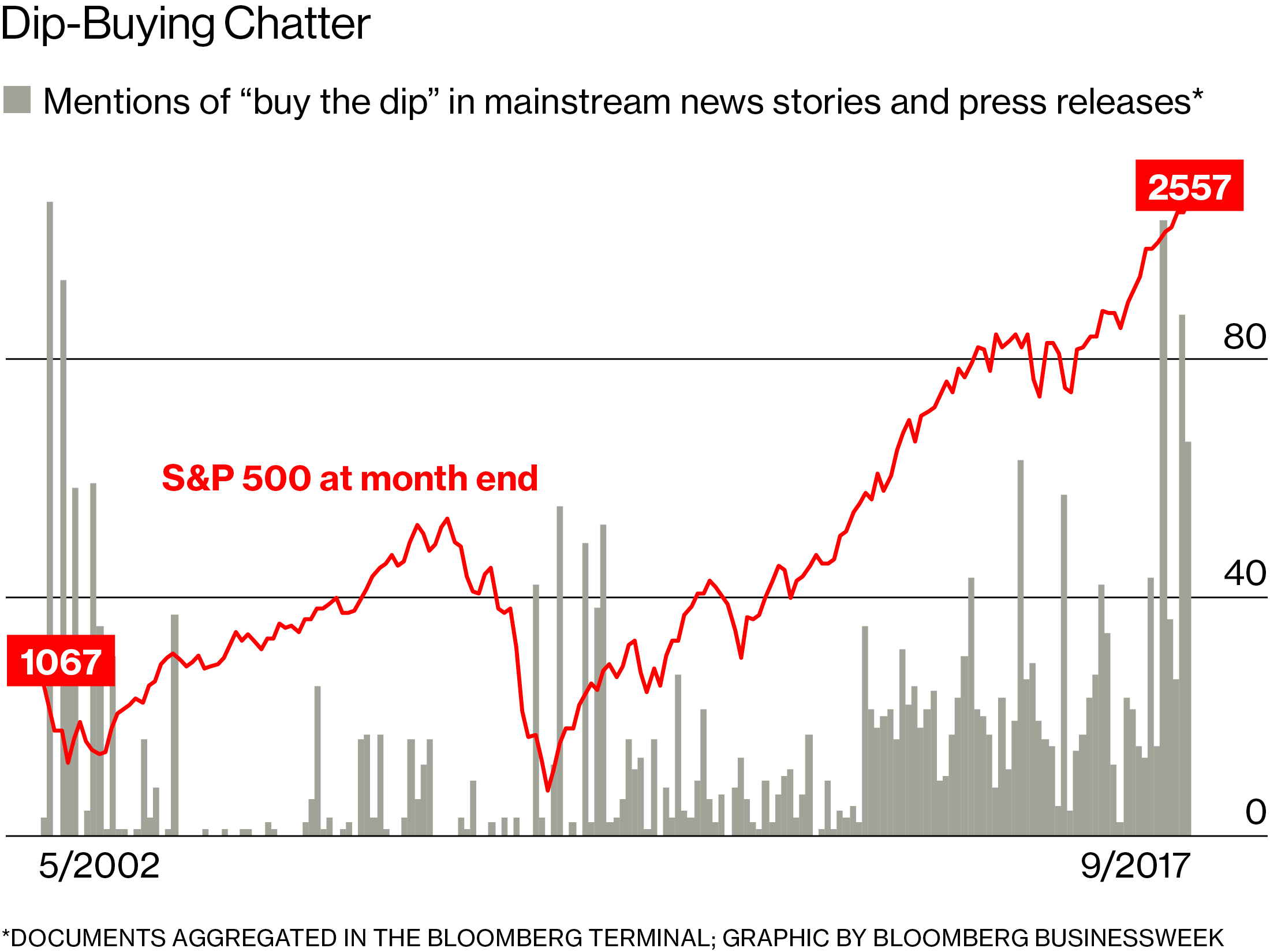 3) How Smartphones Are Killing Us
More people are dying in cars in the U.S. In 2016, more than 100 people died every day in or near a vehicle, the highest number in over a decade. Regulators can't figure out why. Sure, the average journey is a little longer, and we're drinking a little more. But experts think that it's our obsession with staying connected—the urge to check or reply to that text message—that's killing us. There are three possible reasons why. First, the proportion of Americans using smartphones rose to 81 percent in 2016. Second, the way we use our phones now—texting, tweeting, Snapping—require more attention and interaction than a simple phone call. Third, the increase in fatalities is largely among pedestrians and people riding bikes. That's a pretty good reason to ditch your smartphone when driving.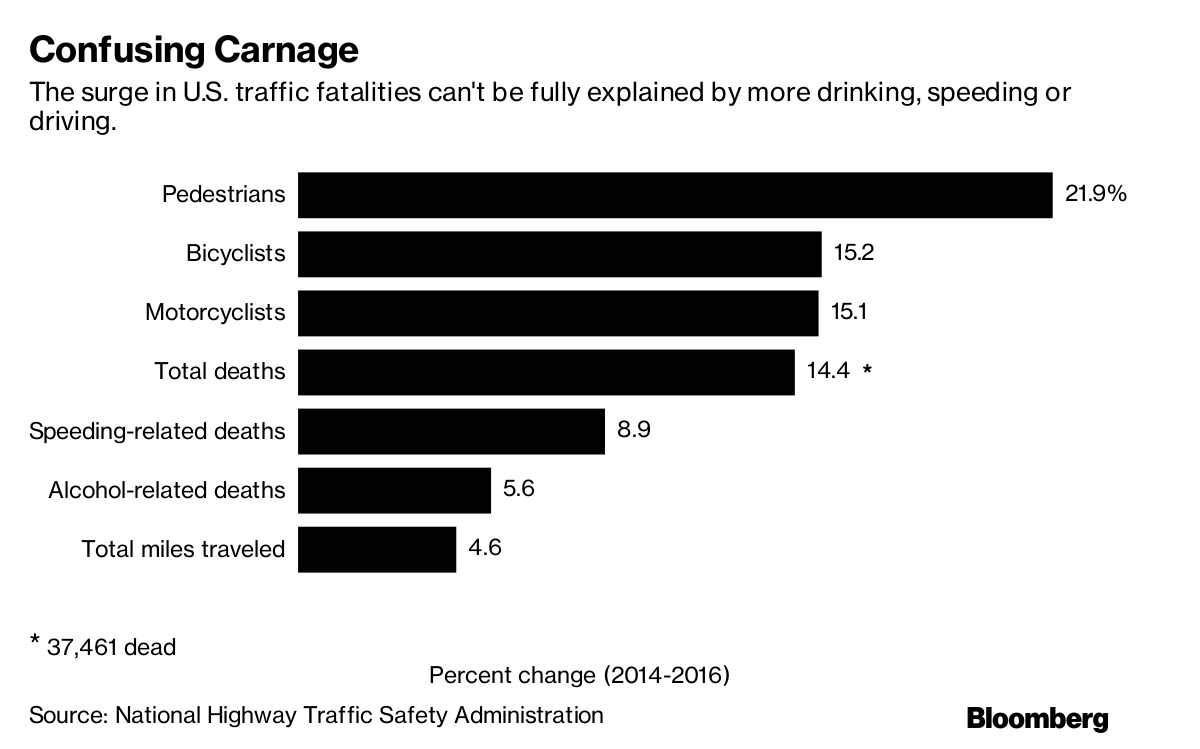 4) Facebook Is Looking for Employees With National Security Clearances
Facebook wants to root out election meddling, and it thinks former spies can help. The social network wants to hire people who have had access to classified information and the skills to identify questionable social media campaigns. That's not the only reason they might want to beef up their skill sets. Both Facebook and Google were criticized this week after Bloomberg revealed that the companies helped to promote controversial anti-refugee advertising campaigns. But unlike other efforts to secretly influence the 2016 election, Benjamin Elgin and Vernon Silver reported that staff at the companies aided the campaign by directly collaborating to help the ads reach their intended targets.
5) The World's Best Restaurant Is in the Middle of Nowhere
How much do you trust TripAdvisor reviews? Enough to rely on their lists of best hotels or cafes? Or do you question whether the reviewers, um, actually know what they're talking about? We weren't sure what to make of a pub in rural England that was crowned best restaurant in the world, so Bloomberg's chief food critic Richard Vines decided to check it out for us. He loved it: the food, the atmosphere and the owners of The Black Swan at Oldstead. "The quality of the ingredients, the originality of the presentation and the assuredness of the cooking lifted them above the everyday," he said. Vines said the cod dish had "just the right mixture of softness and crunch."


Before it's here, it's on the Bloomberg Terminal.
LEARN MORE