U.K. Plc Not Sold on Merkel's 'Warmer Words' on Brexit
By
EEF says 'business needs to see more than a hint of progress'

Pressure mounts for next two months to produce a transition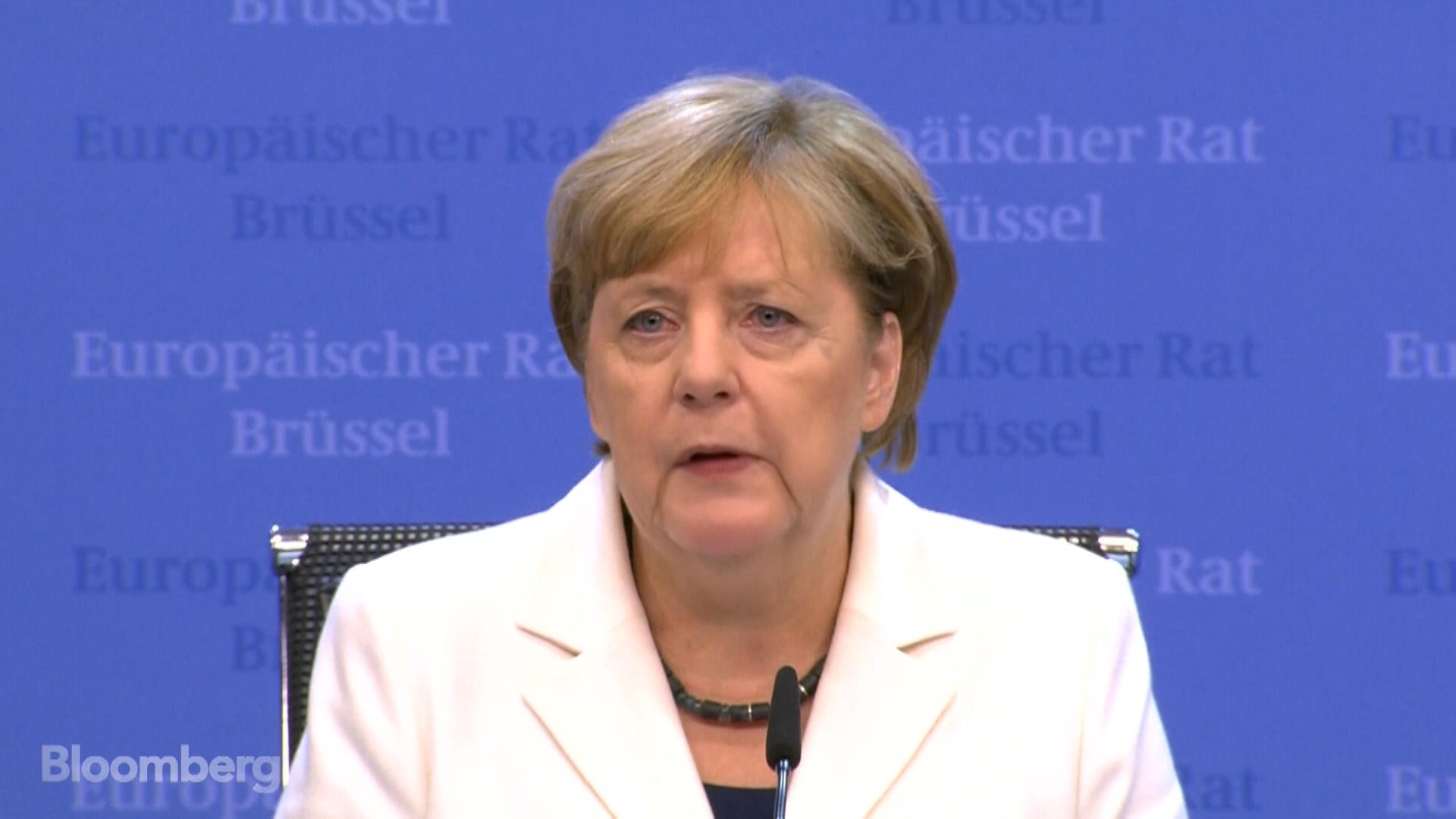 Follow @Brexit for all the latest news, and sign up to our daily Brexit Bulletin newsletter.
Angela Merkel may have thrown U.K. Prime Minister Theresa May a bone in Brexit talks -- but the German Chancellor left U.K. business wanting more.
The "warmer words" exchanged at the two-day summit of European leaders in Brussels "suggest there is a glimmer of light at the end of this tunnel," said Terry Scuoler, chief executive of the manufacturing lobby group, the EEF.

Then came the but: "Business needs to see more than a hint of progress, however, because serious planning for transitional arrangements should be taking place now if companies are to firm up their business plans and pin down investment."
Companies that operate in Britain and trade with the European Union are getting increasingly anxious about the lack of concrete detail on how Brexit will pan out. They argue that they need to know the future regulations and terms of trade between Britain and its biggest trading partner as soon as possible in order to inform investment decisions.
Many, especially in finance, are already eyeing the door. In a tweet, Goldman Sachs Group Inc. Chief Executive Officer Lloyd Blankfein on Thursday said he'd be spending "a lot more time" in Frankfurt, increasing fears of jobs leaving London. 
Part of the certainty companies crave is tied to an agreement that has yet to even be discussed on a transition period that will tide businesses over after March 2019 when the U.K. leaves. The idea being that the day after Brexit happens, not much will change in terms of the regulatory environment.
December Comes
While May had hoped this week's meeting would see them agree to move Brexit talks onto discussions about the future, prospects of that happening have now shifted until December. Last month the prospect of starting transition talks was raised only to be rebuffed by the bloc's leaders.
Allie Renison, head of EU and trade policy at another business lobby, the Institute of Directors, urged EU leaders to "use the next two months to work constructively."
"Holding fast to points of principle should not be the overriding concern here, particularly when it comes to moving on to discuss transition and the future relationship: rigidity will cost both sides dearly," she said.
While she said it's right for the government to plan for the event of not reaching a deal, "we do not want to see preparations for Plan B undermine the main focus on sorting out Plan A. A new deal will benefit business on both sides of the Channel far better than no deal."
Most downbeat of all was TheCityUK, which lobbies for financial companies: The decision not to advance the Brexit negotiations to the next stage was deemed "disappointing, unnecessary and damaging for both the U.K. and the EU" and the value of any eventual transition deal "is disappearing by the day."
"Firms are implementing or preparing to implement their Brexit contingency plans," Chief Executive Officer Miles Celic said. "They can still take their foot off the accelerator if a transitional deal is agreed, but without progress soon, it may be too late."
Before it's here, it's on the Bloomberg Terminal.
LEARN MORE