An Arcane Passage in Spain's Constitution Is About to Shake the Country
By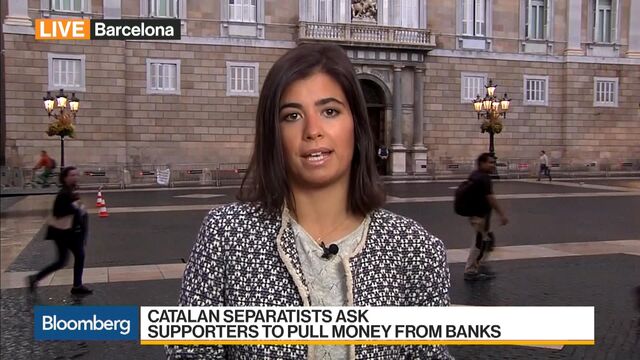 An arcane passage in Spain's 1978 Constitution is about to shake the country for the first time since it was written.
The two sentences of Article 155 will be used on Saturday by Spain's central government to justify an unprecedented legal attack on the secessionist movement in Catalonia. These emergency powers have never been invoked in four decades of democracy since the death of General Francisco Franco. 

From corporate boardrooms to the family dinner table, across Spain the debate is about how they might be used and whether measures will be fair.
Prime Minister Mariano Rajoy will begin to show his hand at the weekend. That's when he's called a special meeting of the Cabinet to begin applying Article 155, which allows the central government to use unspecified tools to force obedience from a regional administration. In practice, it could mean suspending the semi-autonomous government in Barcelona.
"Tomorrow the cabinet will fulfill its duties in approving measures to restore legality and restore normality to institutions," Rajoy said at a press briefing in Brussels Friday, without describing the steps. "What you cannot have is a government not following the law, knowing full well it's not following the law."
Nuclear Option
Once described as an "atomic bomb" by former Foreign Minister José Manuel García-Margallo, Article 155's power may be only as large as Spain's various political parties choose to give it. Rajoy's People's Party leads a minority government that continues to rule only with the grudging acceptance of rivals. The independence drive has proven it can call hundreds of thousands of activists onto Catalan streets.
"It's no magic formula -- it has its problems," Fernando Martinez-Maillo, chief coordinator of Rajoy's People's Party, said in a Cadena Ser radio interview on Friday. "It has to be done with caution, in a temporary fashion, but -- most importantly -- effectively."
The alleged illegal actions by the Catalan government are various. Its parliament approved a full break with Spain's laws and institutions, including the creation of its own Catalan Constitution. That road map for rupture -- Catalonia's Sept. 8 Transition Law -- hasn't been reversed by lawmakers. While that legislation has been suspended by the Constitutional Court in Madrid, Spain would lose jurisdiction in an independent Catalonia.
Carrying it out must be proportional, suitable and within the framework of the constitution," German Gómez Orfanel, a professor of constitutional law at Madrid's Complutense University, wrote in online legal news daily DiarioLaLey. That's because the goal of Article 155 is "to restore" adherence to the constitution, he said.
Spanish Interests
Here's a look at what's involved:
For the government to force one of its 17 "self-governing" regions to obey laws and the constitution, it must see the disobedience as "seriously prejudicial to the general interest of Spain." Rajoy used that very language on Oct. 11 in his formal demand that Catalan President Carles Puigdemont adhere to the rule of law.
Puigdemont's responses haven't convinced the central government to back off, although Martinez-Maillo said the Catalan leader can reverse course up until the Senate begins meeting in full session -- estimated to take place as early as the end of next week.
At the core of Spain's argument is the Catalan parliament's refusal to reverse actions Spain and the Constitutional Court consider illegal; at the top of the list is Puigdemont's Oct. 10 "declaration of independence," which he suspended from taking effect just seconds later. Madrid rejected the legal twist as deliberately confusing.
There will be no immediate or even next-day suspension of the Catalan administration or police force, according to legal experts. The Senate first must approve measures after a debate and other legislative formalities. 
That means a delay of at least another week before any crackdown ensues, even under the speediest of procedures, constitutional scholar Jorge de Esteban Alonso wrote in a law blog in September. But Rajoy's PP has a majority in the Senate, so there's little doubt that he'll be able to get the measures passed, even if his opponents slow down the process.
Click here for an official English translation of Spain's Constitution, including Article 155.
Before it's here, it's on the Bloomberg Terminal.
LEARN MORE