Reports of Angela Merkel's Political Demise Have Been Greatly Exaggerated
By
Merkel sealed EU deals on Turkey and gave key signal on Brexit

Domestic coalition talks lie ahead of German chancellor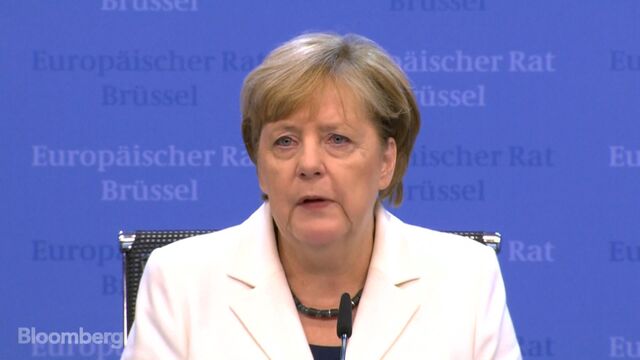 Welcome back, Angela Merkel.
Anyone who thought the German chancellor was a spent force politically need only study her performance on the first day of the EU summit in Brussels, when she asserted herself on the day's two main issues, Turkey and Brexit.
Out of nowhere, the woman whose negotiating prowess once prompted Der Spiegel magazine to dub her "Queen of the backrooms" conjured an agreement among leaders to "responsibly" curb funding for Turkey awarded to EU membership candidates. She thus satisfied domestic outrage over the Turkish arrest of German nationals and put President Recep Tayyip Erdogan on notice for his clampdown on democratic norms.
Then on Brexit, Merkel defied British expectations of an EU go-slow and signaled movement in the negotiations. Cutting through endless U.K. speculation over the latest act of perfidy Germany wants to inflict on Britain, she said she could in fact see a deal coming together.  
"What I heard today was a confirmation of the fact that, in contrast to what you hear in the British press, the process is moving forward step by step," the chancellor told reporters.
Election Setback
The summit was a return to international form for Merkel after she was derided for scraping back into office last month with her party's worst result since 1949. Foes and allies alike said she emerged weakened from the election, blamed her for the rise of the far-right Alternative for Germany party and said she'll be distracted by talks to form the first-ever national coalition with the free-market liberals and Greens that could last until Christmas.
Be that as it may, she still won a record-equaling fourth term at the helm of Europe's biggest economy after admitting 1.3 million refugees to Germany during the 2015-2016 migration crisis. She is the longest-serving Group of Seven leader, remains the west's bridge to Russian President Vladimir Putin and has more experience of EU summits than any government head except the commission president, Jean-Claude Juncker.
Her electoral calendar now over, Merkel is in the final stages of a political career that she has built on being underestimated. French President Emmanuel Macron may be stealing the European limelight, but she seems to be content with that switch in traditional roles for now.
As she prepared to head back to Berlin at the summit's close on Friday for talks with her would-be coalition partners, she sent a thinly-veiled message of intent their way.
"European policy is central for me, and for Germany," she said.
— With assistance by Patrick Donahue
Before it's here, it's on the Bloomberg Terminal.
LEARN MORE