politics
Political Price Looms for May as She Mulls U.K.'s Brexit Bill
By and
Prime minister signals more to come on financial settlement

Run-up to December 'most consequential for Brexit:' Eurasia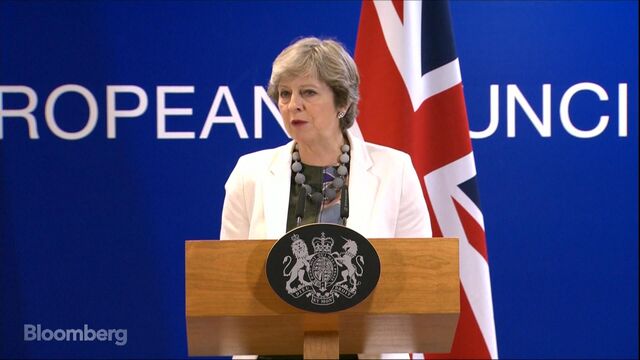 Theresa May left the European summit with warm words on Brexit from her fellow leaders, and the cold fact of a 60 billion euro ($70 billion) divorce bill they still want her to pay. 
The prime minister gave her clearest signal yet that she'll cover the cost of the U.K.'s liabilities when it leaves the bloc, after leaders promised they'll start preparing for the trade agreement she wants. She has just eight weeks to decide which payments the U.K. will make, or trade talks won't start.

"We're going through them line-by-line and we will continue to go through them line-by-line," May told reporters Friday at the Brussels meeting. "The British taxpayer wouldn't expect its government to do anything else."
The question now, as May returns to London to brief lawmakers on the summit, is whether she can afford the political price that offering to pay the bill will incur. Many euroskeptic lawmakers in May's own Conservative party believe the U.K. does not owe the EU a cent, and clawing back money from Brussels was a key pledge of the pro-Brexit campaign last year. 
Read more: The Brexit Bill and Whether Britain Will Pay Up
Some Tories want to replace May as their leader because they blame her for a failed election campaign in June that cost the party its ruling majority, leaving her with little room for maneuver. While she survived one attempt to oust her two weeks ago, her position is far from safe. Antagonizing anti-EU Conservatives will be a risk.
"The next eight weeks will be the most challenging for British Prime Minister Theresa May and the most consequential for Brexit," Mujtaba Rahman of Eurasia Group said in a note. "May's premiership will face maximum danger at the point her government concedes more ground on money."
Read more: Brexit Exposes Existential Crisis for Thatcher's Tired Tories
German Chancellor Angela Merkel said she hoped the U.K. will have agreed to settle the finances so that talks can move on to trade at a summit in December. An informal gathering of EU leaders in mid-November provides another marker in the diary along the way.
Aware of May's political fragility at home, several EU leaders decided to be helpful. French President Emmanuel Macron was less so. "Theresa May's problem is that those who pushed for Brexit never explained the consequences," he told reporters at the summit. 
Talks on agreeing the Brexit bill have only "gone half the path," he said. Brexit Secretary David Davis will try to ease things along on Monday when he has dinner with Foreign Minister Jean-Yves Le Drian.
Back in London, the prime minister will encounter the first hurdle next week, when she is due to update lawmakers in Parliament. She will be able to report back on generous words from Merkel at the two-day leaders' meeting, and Donald Tusk, the EU president. 
EU leaders agreed to start mapping out their own position on what the new trade relationship should be with the U.K. after Brexit. Tusk revealed that these internal talks will reflect May's own plans for the trade accord. 
"I would like to reassure our British friends that in our internal work we will take account of proposals presented there," Tusk said.
The euro-skeptic wing of May's party kept mostly quiet on Friday. Veteran EU critic Bernard Jenkin congratulated May on her performance in Brussels, and called for a breakthrough soon so that talks can move on the future trading relationship.
"Angela Merkel's comments were clearly designed to be helpful," said Nicky Morgan, a pro-EU Conservative lawmaker. "It's encouraging because it's Merkel re-engaging with the process after the German elections."
Business was less enthusiastic, urging concrete progress toward a trade agreement, as the clock ticks down to March 2019, when Britain leaves the EU with or without a deal.
— With assistance by Dara Doyle, Viktoria Dendrinou, Nikos Chrysoloras, John Follain, Patrick Donahue, Gregory Viscusi, Ewa Krukowska, Stephanie Bodoni, Marine Strauss, and Lyubov Pronina
Before it's here, it's on the Bloomberg Terminal.
LEARN MORE