How the FANG Rally May Fade
By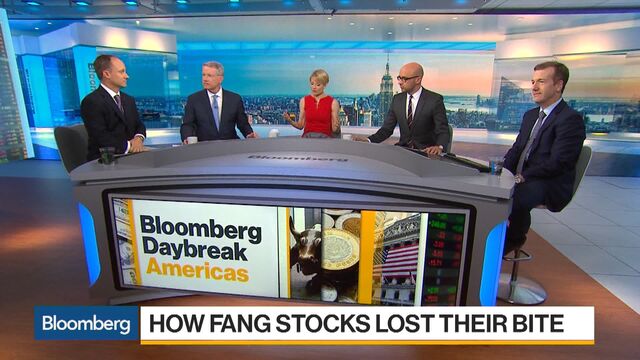 A puzzling trend may point to a fading rally in so-called "FANG" stocks (Facebook, Amazon, Netflix and Google) next year, according to FundStrat strategist Thomas Lee. Over the past 11 years, FANG stocks outperformed the S&P 500 in all of the years ending in odd numbers, yet only outperformed in 33 percent of the even years, he writes in a note.
And the trend isn't explained by earnings growth, Lee says, since earnings for FANG stocks grew at a 33 percent compounded annual rate over this time period. The more likely (and strange) explanation of this relative underperformance in even years is P/E multiple contraction and re-rating. Lee notes that FANG P/Es fell by 5.3x in even years since 2006, and expanded by 3.8x in odd years, a mystery he says is "similar to Stonehenge".
Fundstrat sees a roughly 6 percent return for FANG stocks in 2018, even though the Street estimates the companies' earnings to grow at 37 percent for the year. Fundstrat expects this solid earnings growth to be offset by a contraction in the median P/E multiple for FANG stocks to 49x from 63x currently. This is consistent with the historical trend of the FANG stocks' P/E multiples shrinking in even years.
Rather than investing in FANG stocks in 2018, Fundstrat recommends putting money in 18 "Alternative FANG" stocks within the Russell 3000. These companies have had positive absolute returns and revenue growth over the past five years and are in the top third of market cap-per-employee within their sectors. Lee's Alternative FANG stocks include ABMD, AMTN, AOS,  CBOE, CHDN, HCSG, JBT, LOGM, LRCX, MKTX, NVR, SHEN, SIVB, STMP, STZ, TDG, VGO and WAL.
Before it's here, it's on the Bloomberg Terminal.
LEARN MORE