business
Nissan's Shutdown Is a Fender-Bender for Japan's Industrial Output
By and
Stoppage at six plants expected to cut into IP numbers

Broader economy is seen strong enough to take the hit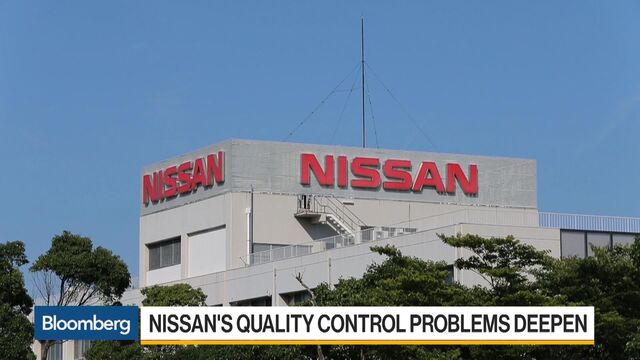 Nissan's suspension of vehicle production at six plants may ding industrial output, but it shouldn't slow the broader economy much.
"Production has been halted, so it's likely that it'll have at least some impact on industrial production," said Kazuo Momma, executive economist at Mizuho Research Institute and former BOJ chief economist. "In terms of impact on GDP, it depends on when production restarts, but overall the Japanese macro economy is doing well at the moment, so it's uncertain how much of an impact it will have."
Nissan said Thursday it would halt output for about two weeks at six plants that produce an average of 1,000 vehicles a day for the Japanese market. The nation's industrial production took a hit when a series of earthquakes in Kyushu in April 2016 disrupted output at Toyota Motor Corp., with production of passenger cars falling 2.3 percent that month from the previous month. Industrial output actually rose fractionally from a month earlier, exceeding expectations.
Momma said the impact on IP this time might be seen beginning with the October figures. "But how long that effect will last depends on when production recovers," he said. 
Before it's here, it's on the Bloomberg Terminal.
LEARN MORE