New Zealand Stocks Gyrate as Conservative Nationals Ousted
By
Labour's Ardern set to lead after winning NZ First support

Deal 'light on detail', market 'nervous': First NZ's Norling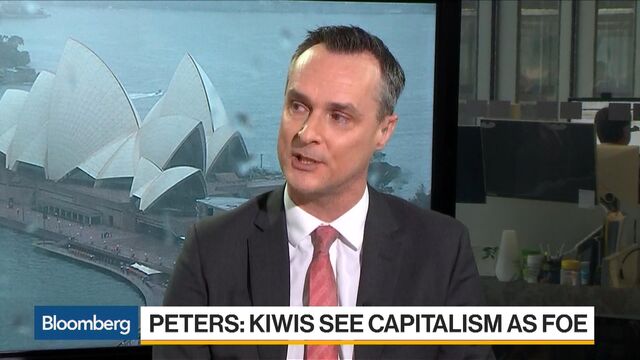 New Zealand stocks swung as investors reacted to the first change in the nation's government in nearly 10 years.
The S&P/NZX 50 Gross Index closed up less than 0.1 percent, at 8,131.07, after falling as much as 1.2 percent. The benchmark set a fresh record and extended its winning streak to 14 days, the longest since 2011. The local dollar extended losses against the greenback.
The Labour Party's Jacinda Ardern on Thursday won the support of the smaller New Zealand First Party to form a coalition government, ousting the conservative Nationals after three, three-year terms. The eventual victors had campaigned to make housing more affordable and reduce immigration, a move that may dampen economic growth.

The coalition's announcement was "a little light on detail on what they've agreed between themselves," said John Norling, Auckland-based director and head of wealth management research at First NZ Capital Securities. "Everybody's a little nervous."
Shares in retirement-village operators Ryman Healthcare Ltd. and Arvida Group Ltd. fell 4.1 percent and 3.3 percent respectively. Investors are concerned their businesses will be hurt by a drop in property prices, according to James Lindsay, an Auckland-based senior portfolio manager at Nikko Asset Management.
Read why Morgan Stanley sees slowing growth in New Zealand
New Zealand government bonds have underperformed their Australian peers since the election. The extra yield investors demand to hold 10-year benchmark kiwi notes instead of similar-dated Aussie debt has widened about six basis points since Sept. 28 to 18.5 basis points.
Currency Markets
The kiwi dollar slipped below 70 U.S. cents for the first time since May 24, extending Thursday's 1.7 percent drop. Currency markets had already been captivated by the election before New Zealanders went to the polls on Sept. 23. Investors pushed the kiwi dollar down whenever there was an indication Labour would form the next government or bid it up when polls favored Bill English's Nationals.
All along stocks pushed higher. Equities were buoyed by local pension funds and offshore investors hunting for yield and diversification, according to Greg Fleming, head of investment strategy at AMP Capital Investors New Zealand. The NZX 50 has climbed 18 percent this year, Asia's second-best developed market benchmark after Hong Kong's Hang Seng Index. Leading gains are a2 Milk Co. and partner Synlait Milk Ltd., which have more than doubled amid Chinese demand for baby formula.

"Exporters with high China exposure could be at an elevated risk if any antagonism develops over immigration restrictions," Fleming wrote on AMP's website. "While the market is expensive by most historical measures, a change in political direction is more likely to lead to a change in market leadership, than to an outright correction."
Quotes from this Article
Before it's here, it's on the Bloomberg Terminal.
LEARN MORE