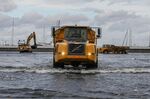 It's rare that major economies all grow at the same time. For investors that's sometimes frustrating. There's always at least one country—Brazil, Russia, wherever—blotting a multinational's otherwise decent set of numbers.
Not anymore. The Organisation for Economic Cooperation and Development says global economic momentum has picked up, in part due to increased business investment, with the upturn synchronized across the big economies. Industrial companies are starting to see the benefit.
Take Volvo AB. Its third-quarter update was a sea of green. Truck and construction equipment orders rose 32 percent and 45 percent respectively in the three-month period (compared to a year earlier). Encouragingly, that growth comes not just from China but is much more broadly based. 1 "Market demand is strong," Martin Lundstedt, Volvo's chief executive, said, noting that even the long-suffering Brazilian heavy duty truck market is bottoming out.

Daimler AG's truck business is roaring ahead too. Its sales rose 30 percent in the third quarter, with increases in previously tough markets such as Indonesia, India, Turkey and Brazil.
Volvo's truck orders have been so good that its supply chain is struggling to keep up, leading to extra cost for things like express delivery and overtime. Not that shareholders care too much about that: The stock surged almost 7 percent. When Volvo's products are selling well, it means the global economy is probably doing OK too. Investors shouldn't be the only ones starting their weekend on a more optimistic note.
Before it's here, it's on the Bloomberg Terminal.
LEARN MORE