Money Managers Think the Catalan Crisis Will Be 'Contained'
By
Decline in Spanish bonds limited despite worsening crisis

Turmoil 'no reason' to review forecasts: PIMCO's Sundstrom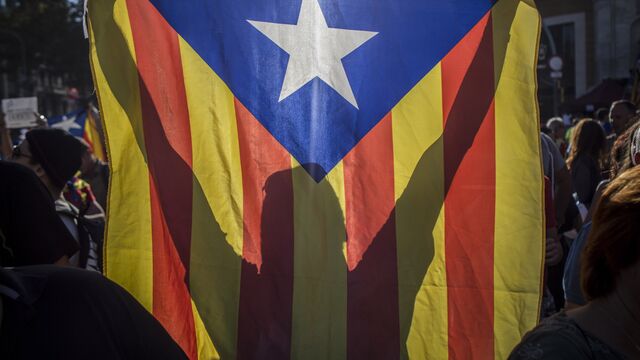 The fastest-growing major economy in the euro area is in the middle of a political crisis with its richest region fighting for independence, yet Spain's government bonds and the euro only briefly faltered.
While volatility may surge on further developments, analysts and money managers remain doubtful whether Spanish politics poses a big threat to markets just yet. The standoff, which came to a head on Thursday with Spanish Prime Minister Mariano Rajoy moving toward suspending Catalan autonomy, was met with a short-lived sell-off in bonds and the euro.
Asset managers from Pimco to Investec view the events surrounding Catalonia as a domestic affair for Spain that doesn't pose a systemic risk for the rest of the euro area.

"We do not think this is a reason to review our forecasts in terms of Europe and monetary policy and therefore the impact should remain contained," Pacific Investment Management Co.'s Geraldine Sundstrom said in an interview with Bloomberg Television. "If anything, we've used some of the volatility to benefit from better entry points on bonds like Catalonia, for instance, where we would be willing to buy."
Spain's 10-year bond yield increased two basis points to 1.65 percent as of 9:31 a.m. in London Friday, in line with regional peers. It climbed as much as five basis points the previous day before paring the advance within hours. The euro's dip on Thursday on the Catalan news also proved fleeting. It ended the day 0.6 percent higher. It fell 0.4 percent against a broadly stronger dollar on Friday to $1.1803. 
Markets expect the tussle between Madrid and the Catalan separatists to intensify, but the muted moves showed that it isn't clear-cut whether this fight for independence is necessarily a negative for Spain in the longer term, according to analysts at Rabobank International and Mizuho International Plc.
'More Autonomy'
"We've been here before and ultimately, Catalonia will not be allowed to secede -- constitutionally this is illegal," said Matthew Cairns, a strategist at Rabobank in London. "What Catalonia wants is leverage to bargain for more autonomy. There will be additional reform ultimately and likely more autonomy. Madrid has a vested interest, constitutionally and financially, given the size of the Catalan economy, to ensure secession does not occur."
Investec Asset Management Ltd.'s Russell Silberston remains more focused on the dollar than the euro and said the market's reaction to Spanish turmoil shows it's "assuming it would not be systemic in any way, it doesn't threaten the euro. It's domestic politics and also the euro is slightly cheap."
The turmoil in Spain could cause markets to focus on regional elections, according to Antoine Bouvet, a London-based rates strategist at Mizuho. "It is a positive outcome as it will be fought over the issue of independence and it will be the opportunity to ask Catalan voters what they really think the regional government should do."
Rabobank's Cairns also pointed to the European Central Bank's asset-purchase plan, which is likely to remain in the market most of 2018 and is providing a buffer for bonds.
"There's the fact that markets aren't worrying about anything these days," he said.
— With assistance by Francine Lacqua
Before it's here, it's on the Bloomberg Terminal.
LEARN MORE