Mexico Says Texas Immigration Crackdown Is Creating Fear and Panic
By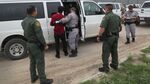 Mexico says a Texas law aimed at escalating a crackdown on undocumented immigrants is creating "fear, panic, and uncertainty" among Mexican nationals legally living in the border state and is even scaring off tourists and business travelers.
The measure enacted this year by the state's Republican leadership, which lets law enforcement officials inquire about immigration status during routine encounters, deterred some Mexican nationals from seeking emergency assistance during Hurricane Harvey, the Mexican government said in a filing to an appeals court weighing whether to block the law. SB 4, as the law is known, will also hinder U.S.-Mexico trade and discourage international students from attending Texas universities, according to the filing.
"The possibility that thousands of previously work-authorized Mexican nationals who study, work and reside in Texas are now under threat of removal (and irreparable harm) upon any interaction with a Texas law enforcement official has engendered unprecedented levels of anxiety in the Mexican community," Mexico told the New Orleans-based appeals court.
— With assistance by Laurel Brubaker Calkins
Before it's here, it's on the Bloomberg Terminal.
LEARN MORE