Merkel's Support Hands May a Chance to Make Brexit Concessions
Tim Ross, Ian Wishart and Emma Ross-Thomas
Run-up to December 'most consequential for Brexit:' Eurasia

U.K. premier signals more could be offered on exit bill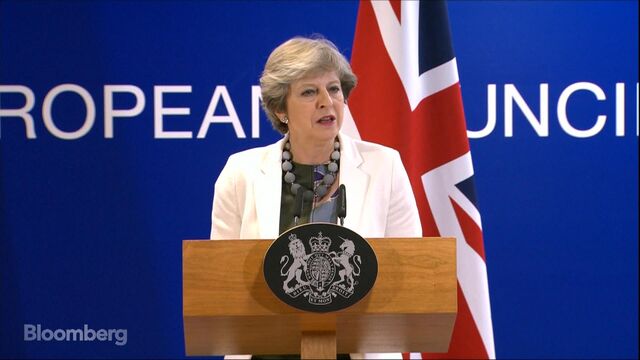 Follow @Brexit for all the latest news, and sign up to our daily Brexit Bulletin newsletter.
Theresa May left the European Union summit with as much as she could have realistically hoped for. Now she needs to take a punt on her political future and make concessions that will allow a breakthrough in talks.
German Chancellor Angela Merkel had warm words of encouragement for May at the two-day leaders' meeting, offering her the political cover she's been asking for to allow her to take more steps to move talks on. Merkel said it was up to both sides to move forward so that negotiations -- deadlocked over the divorce bill -- could take a leap forward in December.
"The next eight weeks will be the most challenging for British Prime Minister Theresa May and the most consequential for Brexit," Mujtaba Rahman of Eurasia Group said in a note. "May's premiership will face maximum danger at the point her government concedes more ground on money."
While EU leaders made it clear that the U.K. has to offer more detail on what it's prepared to pay when it leaves, they also showed understanding of May's political fragility at home. May is fighting to keep her job after a disastrous election and to hold together a squabbling Cabinet. Just two weeks ago she was facing down a coup hatched by party rivals.
Read more: Macron and Merkel Make Friends With May Despite Brexit Deadlock
"Angela Merkel's comments were clearly designed to be helpful," said Nicky Morgan, a pro-EU Conservative lawmaker. "It's encouraging because it's Merkel re-engaging with the process after the German elections."
The euro-skeptic wing of May's party kept mostly quiet on Friday. Veteran EU critic Bernard Jenkin congratulated May on her performance in Brussels, and called for a breakthrough soon so that talks can move on the future trading relationship.
Business was less enthusiastic, urging concrete progress toward a trade agreement, as the clock ticks down to March 2019, when Britain leaves the EU with or without a deal.
In Brussels, May was praised for her approach, which aimed to build on the concessions she made last month -- mainly over money -- in a speech in Florence. Maltese Prime Minister Joseph Muscat said she gave "her best performance yet."
Speaking to reporters, May offered a shade more clarity on the divorce bill, and didn't knock down a suggestion that the U.K. may have to pay as much as 60 billion euros ($71 billion) when it leaves.
"Everybody is looking for a success story, nobody tries to block the negotiations," Romanian President Klaus Iohannis told reporters. "It's quite obvious that the approach from Prime Minister May is more positive, more solution-oriented. So is our approach."
Late on Thursday, May urged fellow leaders to help her find a deal she could sell to skeptics at home. Her counterparts responded with words of encouragement -- though no concrete concessions.
The conclusions of the summit also point to possible progress before year-end: The EU side will make preparations so that they are ready to start trade talks in December if leaders approve the start of talks. It was less than the U.K. was originally hoping for -- it had wanted talks to be expanded now to include the transitional arrangement that May wants to put in place after Brexit to smooth the process for businesses.
Read more: The Brexit Bill and Whether Britain Will Pay Up
The EU side complains that the initial offer on money May made in Florence -- about 20 billion euros ($24 billion) and some unspecified additional commitments -- hasn't been converted into detailed negotiating positions.
Those additional commitments would add up to another 20 billion euros, people familiar with the discussions said last month. The EU side has floated numbers closer to 60 billion euros.
May made clear that the bill will only be settled in the context of the final overall deal. People familiar with the situation have said the final number may never be published as it's sliced and diced to be more politically acceptable.
— With assistance by Dara Doyle, Viktoria Dendrinou, Nikos Chrysoloras, John Follain, Patrick Donahue, Gregory Viscusi, Ewa Krukowska, Stephanie Bodoni, Marine Strauss, and Lyubov Pronina
Before it's here, it's on the Bloomberg Terminal.
LEARN MORE