May Edges Toward 'Specific Solutions' for Irish Brexit Dilemma
By
U.K. recognizes Northern Ireland's unique circumstances

Irish consider seeking border pledge to allow talks move on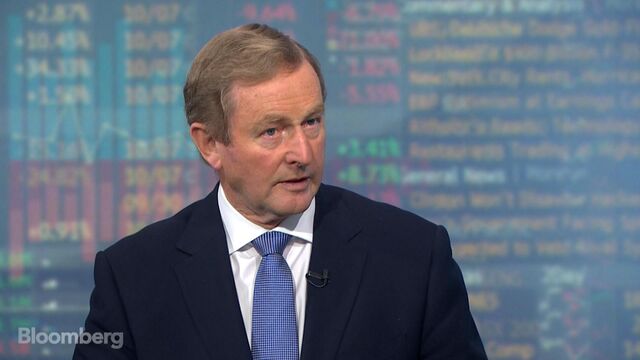 U.K. Prime Minister Theresa May edged towards compromise on the Irish border issue, signaling she is open to a "specific" solution for the problems posed by Brexit for Northern Ireland.
"Northern Ireland's unique circumstances demand a specific solution, " May told reporters in Brussels on Friday.
Ireland's government is considering pushing for guarantees that no border will be reimposed on the island of Ireland as the price for allowing Brexit talks to move ahead, according to three people familiar with the matter. The border is one of three key issues that have been identified, along with citizens' rights and money owed by the U.K., that require "sufficient progress" toward a resolution before the European union will allow talks to move on to Britain's future trade relationship with the bloc.
 Ireland's Prime Minister Leo Varadkar said he has a "degree of confidence" that talks will move on in December, though detail is needed on what solutions the U.K. is proposing. He said a political rather than technical solution is needed.
"From the U.K. government, we've had 'technical', 'agreed, reciprocal', 'technology-based' and 'different' I..e. sectoral but not 'specific' solutions," said Katy Hayward, a political sociologist at Queen's University Belfast.
Promising "specific" solutions for Northern Ireland could effectively commit the U.K. and the EU to the idea of a bespoke deal for the region, should the two sides fail to reach the type of a free-trade accord that would eliminate the need for a border.
Ireland won't push for the phrase "special status" for Northern Ireland to be included, due to the political sensitivities facing Theresa May's government in London, the people said. Northern Ireland's Democratic Unionist Party is propping up the Conservatives, placing them in a pivotal position as Brexit talks unfold. The DUP, which backed Brexit in last year's vote, has rejected the idea of a special treatment for the region that would involve it being treated differently to the rest of the U.K.
Before it's here, it's on the Bloomberg Terminal.
LEARN MORE