Pleasure and Pain: GE and United Earnings Calls in Contrast
By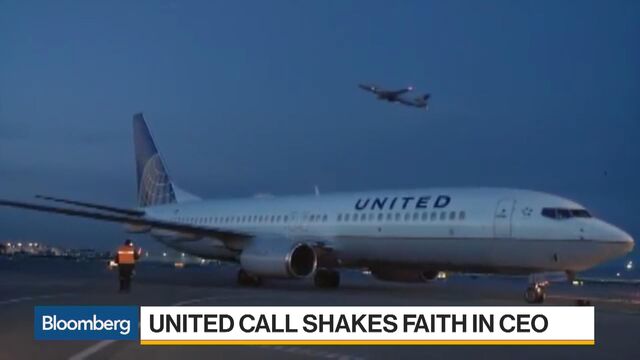 General Electric Co.'s post-earnings conference call Friday was a portrait of grabbing the bull by the horns. United Airlines' call the day before was more like getting gored.
When GE released results at 6:30 a.m. in New York -- missing analysts' estimates by a mile and slashing the profit forecast -- the shares plunged. Two hours later, when the analysts' gaggle began, the stock was down 7 percent in premarket trading and still falling. 
Then John Flannery took the mic for his first earnings call as chief executive officer. The industrial giant's results were "unacceptable," he told analysts. "We need to make some major changes." The CEO promised a sweeping review that would lead to asset sales and other restructuring. Nothing was sacred.

GE's stock soon started climbing. Shortly after the market opened, the shares were down just 4.6 percent. GE closed 1.1 percent higher.
Contrast that with Oscar Munoz's performance with United Continental Holdings Inc.
The airline issued a tepid earnings forecast late Wednesday and said it had lost its short-lived grip on a closely watched measure of pricing power. But some analysts said the picture wasn't as ugly as feared, and the stock dropped only moderately in early trading. 
The bottom fell out when Munoz addressed analysts. The CEO and other executives failed to reassure investors that costs and capacity growth were under control. Nor could they provide an update on key financial targets United laid out last year. Munoz asked for "a little bit more patience."

He didn't get it. About halfway through the call, United's shares turned south. By day's end what started out as a moderate slide ballooned into a 12 percent stock rout -- United's worst in eight years.
— With assistance by Michael Sasso, Rick Clough, and Justin Bachman
Before it's here, it's on the Bloomberg Terminal.
LEARN MORE