Balance of Power: Tillerson Talks Tough After Trump Chiding
By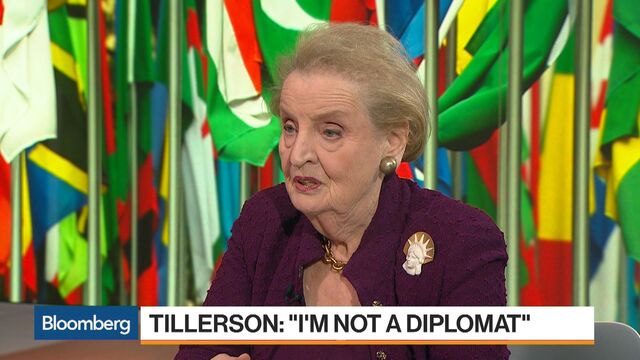 Two weeks after President Donald Trump said he should be "a little bit tougher," Secretary of State Rex Tillerson is giving it a shot.
In a half-hour interview, Tillerson called out two countries at the center of U.S. foreign policy: While not mentioning Saudi Arabia by name, he vented frustration for a failure to resolve an economic blockade it's leading against Qatar.
Then he accused China of dragging its feet on issues ranging from North Korea to trade. "We're expecting to see some change," he said.
While speculation has been rife that Tillerson's relationship with Trump is under strain, particularly after NBC reported he called the president a "moron," Trump says he has faith in the former oil man.
Tillerson has become a more vocal champion of the president's priorities, speaking increasingly often to the media and sharpening his message. And he professes to be enjoying the job despite the occasional jibes from his boss.
"Until somebody tells me your services are no longer needed or wanted," he said, "that's what I'm going to keep doing."

Dear readers: Look out for a special Japanese elections edition of Balance of Power this Sunday — and do send today's newsletter to any friends who might be interested in what happens next for Prime Minister Shinzo Abe so they can sign up.
Global Headlines
Fed pick jockeying | Trump's closest advisers are steering him toward choosing either Stanford economist John Taylor or Federal Reserve Board Governor Jerome Powell to be the next Fed chief, Jennifer Jacobs and Saleha Mohsin report. Trump, who interviewed current chair Janet Yellen yesterday, is said to still be undecided. He has publicly promised to announce a pick — who would then face Senate confirmation — before his Nov. 3 departure for Asia.
Disruption in Spain | Catalan separatists are shifting to a more disruptive tactic to force Madrid into talks. A campaign group today urged supporters to pull cash from the biggest Catalan banks and plans to picket international companies operating in the region. All the same, EU leaders backed Prime Minister Mariano Rajoy's hard line against the Catalans' demands at a summit in Brussels. 
One U.S. tax hurdle down | House Republican leaders have agreed to accept the fiscal 2018 spending blueprint the Senate adopted last night as a way to speed up consideration of Trump's tax-cut plan — final approval of the budget measure would unlock a special procedure allowing Republicans to pass a tax code rewrite without Democratic support.
Merkel says get moving | Shortly after midnight in Brussels, German Chancellor Angela Merkel threw U.K Prime Minister Theresa May a lifeline, calling on both sides to move so that a Brexit deal can be reached by year-end. May now has something to take home to her unsettled Conservative Party, and the political cover she needs to offer more concessions and move talks along. The aim is to reach a deal on the divorce settlement so trade talks can start in December.
Lebanon's model | There's a new row picking at the seams of Lebanon's delicate sectarian power structure — when to start the weekend. It may seem a minor matter for a nation used to conflict and political paralysis. But as Rodney Jefferson and Donna Abu-Nasr write, making Friday the day of rest and prayer strikes at the heart of Lebanon's identity — and contains a warning for those who see its uneasy religious coexistence as a model for peace in neighboring Syria.
Trump Jr. rakes it in | Trump's presidency has turned his eldest son into a rainmaker for the Republican Party, conservative groups — and even himself. In October alone, Donald Trump, Jr. will headline at least four events, including a pheasant hunt for an Iowa congressman. Next month, he's set to receive a $100,000 speaking fee for a scholarship event at the University of North Texas.
And finally... Just days before Argentine President Mauricio Macri's alliance seemed set for election victory, the discovery of a body in a Patagonian river believed to be that of missing protester Santiago Maldonado has sown seeds of doubt. The worry for Macri, who needs a decisive win to push ahead with plans to open the economy, is that the case may swing votes to former President Cristina Fernandez de Kirchner. She's blamed the president for Maldonado's fate and insinuated collusion between the government and security forces. DNA analysis probably won't be ready before the elections.

— With assistance by Chris Fournier, and Kathleen Hunter
Before it's here, it's on the Bloomberg Terminal.
LEARN MORE