Arts
At American Ballet Theater, a Milestone and Momentum Forward
In 25 years at the helm of ABT, Kevin McKenzie has said hiring Alexei Ratmansky as artist-in-residence was one of his smartest moves.
By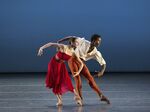 At the American Ballet Theater's fall gala on Oct. 18, two key stars were were men long past their dancing days: Kevin McKenzie, who was celebrating 25 years as the company's artistic director, and choreographer Alexei Ratmansky, who premiered a spirited new dance that evening. Evidence of their game-changing collaboration could be seen everywhere, from the stage, to the makeup of the crowd, to the topics of conversation throughout the night—which included the subject of diversity and the company's ambitious plans for the future.

Throughout the night McKenzie, who was an acclaimed dancer with ABT before being tapped to lead the company in 1992, was referred to as a mentor and a guiding light in speeches. When he began, he had no administrative experience, and he told the New York Times in 2012 that the company's financial problems at the time were "overwhelming." One of the first things he learned on the job was that "every good artistic decision is a lousy business decision."
Except when it's not. In 2009, McKenzie brought in Ratmansky—fresh from a post as artistic director of the Bolshoi Ballet in Moscow—as the company's artist-in-residence, a relationship that has proved a perfect fit for the ABT brand and a boon for its bottom line. Five years ago, McKenzie admitted to the Times that "contributions are way down." But now, "we've turned a corner, we have the wind to our backs," said Kara Medoff Barnett, the company's executive director, in an interview. (The company's $43 million budget is significantly less than that of its Lincoln Center neighbor, New York City Ballet, but significantly more than the budgets of most U.S. ballet troupes.)
The Ratmansky Effect
It's hard to overstate the excitement that Ratmansky has generated at ABT. In comments printed in the evening's playbill, McKenzie said, "I think Alexei's appointment was the turning point in ABT's history." Last year, the company launched the Ratmansky Project, a five-year, $15 million campaign to fund at least one new work each year—a smart investment in one of its strongest assets. In June, Ratmansky will unveil his latest historical reconstruction, Harlequinade, based on a 1900 production by the classical ballet pioneer Marius Petipa. "Alexei is the center of our artistic ambitions," said Barnett, and "a magnet for funding and conversation around the art form."

ABT's two-week fall season is devoted to repertory work—a mixed bill of shorter, generally abstract dances. The five-week spring season, held at the larger Metropolitan Opera House across the plaza, is devoted to evening-length warhorses such as Swan Lake and Giselle. Ratmansky has deftly invigorated both ends of this artistic spectrum. Last year, he blessed ABT with Serenade After Plato's Symposium, a stunning meditation on love, philosophy, and male camaraderie to music by Leonard Bernstein; in 2015, he did so with an exacting, illuminating reconstruction of the 19th century classic Sleeping Beauty.
The Gala

On Wednesday, following a short, jubilant work by Jessica Lang in honor of McKenzie performed by students of ABT's school and dancers in its Studio Company, the company premiered Ratmansky's latest, Songs of Bukovina. Set to music by Leonid Desyatnikov loosely based on Ukrainian folk songs, the work doesn't have a narrative, but one of Ratmansky's great gifts is that he always seems to be telling a story. Without sets or fussy costumes, he manages to convey a sense of character and community through simple, evocative gestures and incisive interactions by, and within, the group.

Ballet is always reaching for the sky, but Songs of Burkovina displayed a refreshing earthiness. Ratmansky kept his 10 dancers close to the ground, skipping and shuffling, allowing their arms to swing and their shoulders to shrug. Rarely did a leg rise beyond 90 degrees, and when the women were lifted in the work's signature pose, they settled on their partner's waist rather than on his shoulder. As the central couple, Calvin Royal III, filling in for an injured Alban Lendorf, and Christine Shevchenko embodied the work's energetic humility.
Ratmansky is one of a trio of choreographers frequently cited as saviors of contemporary ballet, bringing new ideas to an often stubborn art form.
The others are Justin Peck, the young resident choreographer at City Ballet, who has had a similarly revitalizing impact on that company, and Christopher Wheeldon, whose 2011 work Thirteen Diversions was also on ABT's gala program.
Misty Copeland, probably the most famous ballerina in America, was a standout in that work in a quiet solo and lush duet, exuding a poignant blend of vulnerability and dignity.
Stepping Forth

Earlier in the evening, Copeland, who became ABT's first black female principal dancer in 2015, honored the work of Project Plié, a 2013 initiative to increase racial and ethnic diversity in American ballet. To date, the program has engaged thousands of youngsters around the country who wouldn't otherwise have access to classes and equipment. ABT has partnered with the Boys & Girls Clubs of America and regional ballet companies from Austin to Nashville to expand its reach.
With a quarter-century of accomplishments behind him, McKenzie is still adding to his wish list. "I'd love to see the company have more performances opportunities, a more state-of-the-art rehearsal facility to work in … and a billion-dollar endowment," he said in his Playbill interview. Finding new audiences will continue to be a priority and a challenge, as it is for all of dance. But with off-stage efforts to attract a diverse generation of talent and Ratmansky's thrilling modern classics on stage, ABT is starting the next quarter-century on the right foot.
Before it's here, it's on the Bloomberg Terminal.
LEARN MORE