Argentines Vote in Midterms Seen as Poll on Macri Reforms
By
Voters to replace half lower house and a third of senate

Polls suggest Macri's alliance to gain seats in both chambers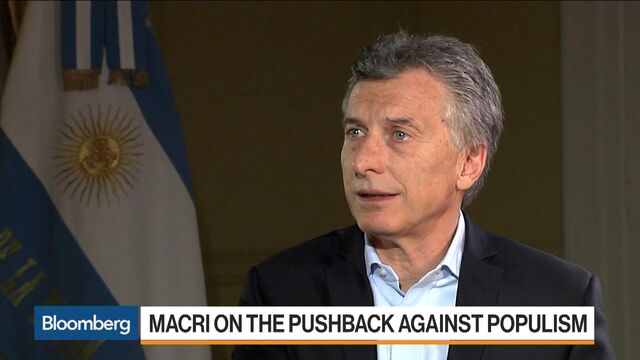 Argentines will have the opportunity to send a message of support for President Mauricio Macri's reform agenda as they vote in mid-term elections today after months of intense campaigning.
They are voting to replace or renew 127 out of 257 lawmakers and 24 out of 72 senators in the bicameral legislature. Polls opened at 8 a.m. and will close at 6 p.m. local time, with the first results expected by 9 p.m.

Neither Macri's alliance nor his opponents will come out from Sunday's elections with an outright majority in Congress, and just a handful of extra allies in both chambers may be the difference between a vote for or against key legislation to modify antiquated labor and tax laws that Macri says weigh on Argentina's economic future.
In August primaries seen as a dress rehearsal for Sunday's vote, Macri's Cambiemos alliance scored unexpected victories in traditional Peronist strongholds, and trailed ex-President Cristina Fernandez de Kirchner by just 0.2 percentage points in the key race for senator of Buenos Aires province.

An economy that's gathering steam after a recession last year favors Macri's alliance, with polls giving his candidate Esteban Bullrich a 2 percentage point to 4 percentage point lead over Fernandez. The economy grew 2.7 percent from a year earlier in the second quarter, the fastest growth since Macri took office. If the polls are accurate, Cambiemos will gain at least 19 seats in the lower house, bringing its total to 105, and eat into Peronism's majority in the senate by reaching 26 seats, according to TPCG Group strategist Fernando Gimenez.
The peso was the worst-performing currency tracked by Bloomberg in the run-up to the primaries as polls predicted Fernandez would win by as much as 5 percentage points. It has gained 2.1 percent since Aug. 11 as polls showed the momentum swinging toward Bullrich. Argentine bonds rallied more than 8 percent on average since the primaries to trade near all-time highs, according to JPMorgan's emerging-market bond index.
Macri's coalition is poised to improve on his victory in 2015's presidential race after a heated campaign that included accusations against the government and criticism over its handling of the disappearance of an indigenous rights protester. His coalition will probably win in the provinces of Buenos Aires, Cordoba, Mendoza and Santa Fe, as well as in Buenos Aires city, the country's five largest electoral districts, according to Eurasia Group.
In the Senate race, the party with most votes is awarded two seats while the runner-up gets one, so both Fernandez's and Bullrich's presence in the Senate is likely guaranteed. However, a first-place finish for the former president, who has campaigned on putting a brake on what she's described as Macri's austerity drive, would be interpreted as a rejection by voters of his efforts to open up one the world's most protectionist economies.
Macri will submit at least four bills to Congress in the first week of November to try to reform the country's fiscal and tax systems and implement an amnesty for employers with unregistered workers, a senior member of the government told Bloomberg.
Before it's here, it's on the Bloomberg Terminal.
LEARN MORE