After New Zealand Victory, Ardern Must Win Over Economists
By
Kiwi slumps and stocks drop as policy hints rattle investors

Coalition rhetoric 'more mistrustful of markets': Westpac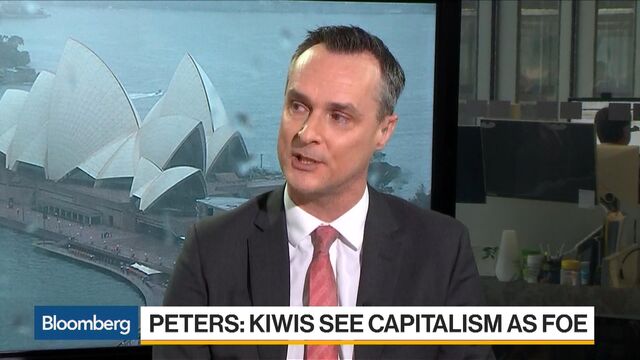 After her stunning rise to power, New Zealand's incoming leader Jacinda Ardern faces a pressing challenge: delivering economic change with a team that lacks credentials.
Investors used to the steady hand of former Prime Minister Bill English are nervous as the new government hints at central bank reform, immigration cuts and increased social spending that will hit just as the economy is losing some gloss. New Zealand's dollar slumped and the stock market opened lower after Ardern's elevation was confirmed late Thursday. 
"The new coalition government is likely to be more interventionist in the economy than any government New Zealand has seen in decades," said Dominick Stephens, chief New Zealand economist at Westpac Banking Corp. in Auckland. "Both Labour and New Zealand First's rhetoric often sounds more mistrustful of markets than the previous government."
The new government will inherit a slowing economy and business sentiment that could quickly turn negative, adding pressure on the administration to lift the veil on its policy plan. Ardern's challenge will be to name key ministers and fend off critics who say her team lacks expertise: after nine years in opposition, only a handful of her caucus have experience in government.

New Zealand's dollar fell to a five-month low in Wellington on Friday, and has dropped more than 3 U.S. cents since the inconclusive Sept. 23 election that cast doubt on National returning for a fourth term. The benchmark NZX-50 stock index fell as much as 1.2 percent in early trading before erasing losses.
The market's caution may be warranted. Economic growth slowed to 2.5 percent in the year through June from 3.5 percent a year earlier as capacity constraints dragged on construction. Business and consumer confidence declined in the lead up to the ballot, which could result in lackluster activity in the second half of the year.
"The economy is already going through a growth transition with a few wobbles emerging," said Philip Borkin, senior economist at ANZ Bank New Zealand in Auckland. "Change can be unsettling, and we've seen in the past if change is not communicated well you do get a sentiment hit that can have economic consequences."
Labour also campaigned on shaking up monetary policy. It wants the central bank to add full employment to its existing sole mandate of price stability, and also proposes policy be decided by a committee that would include external members, rather than the governor as lone decision maker.
Read more: Slower Growth for N.Z. Is Key Takeaway at Morgan Stanley
The Labour caucus met Friday to discuss the agreements with New Zealand First and the Greens that saw Ardern oust a three-term National Party-led government. It named 21 members who will be ministers alongside seven from its smaller partners. Ardern will allocate portfolios over the weekend, and expects the new cabinet to be sworn in Oct. 26, she told reporters. Policy details are expected early next week.
Many of the government's key portfolios will be filled by politicians experiencing their first taste of government after entering parliament in 2008, along with Ardern. That includes Grant Robertson who is likely to become Finance Minister, Phil Twyford who may hold the housing portfolio and Chris Hipkins who has been Labour's education spokesman.
"We see enhanced political and economic risk to the economy," said Annette Beacher, head of Asia-Pacific research at TD Securities in Singapore. "Markets tend to view Labour governments as big spenders."
Ardern said the plan she outlined in the election campaign for the first 100 days of her government is mostly intact. That list included repealing National's planned tax cuts and replacing it with a broad package of spending to help low-income families, as well as making the first year of tertiary education free from January. Labour has said it will continue to deliver budget surpluses but debt will increase in nominal terms.
"The key is how they communicate to the wider community," said Borkin. "They need to get buy in, otherwise they will get a backlash."
Before it's here, it's on the Bloomberg Terminal.
LEARN MORE