Activist Loeb Discloses Dover Stake, Holds Management Talks
By and
Third Point calls for industrial group to sell energy unit

Investor says business would be attractive strategic target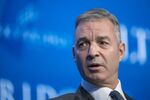 Activist investor Dan Loeb disclosed a stake in industrial conglomerate Dover Corp. and said he'd held talks with management about increasing shareholder value. The stock jumped the most this year.
Loeb is urging Dover to sell its energy business, which is the subject of a strategic review, according to a letter to investors Friday, seen by Bloomberg. The investor didn't disclose how much of the company his Third Point hedge fund owns.
"Dover shares have materially underperformed the industrial peer group over the three-year period preceding our investment," Third Point wrote in the letter. "A significant earnings decline in Dover's energy business and the substantial fall in global crude oil prices were the primary drivers."
The shares rose as much as 5.5 percent in New York to $94.46, the most in intraday trading since December. That valued the Downers Grove, Illinois-based company at about $14.7 billion.
Dover said in September it's exploring strategic alternatives for the energy business including a spinoff, sale or other combination. The unit, known as Wellsite, could be valued at about $2.4 billion, Bloomberg Intelligence analyst Mustafa Okur wrote in a note. Loeb's Third Point believes the unit is an attractive target to many buyers.
"Removing the energy cyclicality from Dover will greatly reduce earnings volatility, allowing investors to focus on a high quality industrial portfolio with strong growth drivers," the investor wrote.
Loeb said he supported the company's plans to improve margins by 300 basis points by 2019.
"We plan to closely monitor the company's progress toward its 2019 margin targets and will stay engaged to promote a thoughtful capital allocation process," Third Point wrote.
Dover maintains a strong and substantive dialogue with its shareholders, a spokesman for the company said in a statement, adding that it regularly meets with investors, including Third Point, and welcomes constructive discussions.

U.S. Growth
The letter said the majority of Third Point's portfolio is invested in stocks in the U.S. and that Loeb sees the country leading the world in global growth. Even so, Third Point has increased exposure to Europe this year, particularly through its investment in Nestle SA.
"It doesn't appear for now that any of the incremental changes under consideration in tax cuts or rates -- whether or not they come to pass -- will materially impact the markets," Third Point said in the letter.
"More recently, our equity investment framework has drawn us to larger market capitalizations and we have learned to 'pay up' for certain higher-quality companies with market-dominating positions," the firm wrote.
Third Point Offshore Fund returned 3.4 percent in the third quarter, extending gains for the year to 14.5 percent.
The returns outperformed the S&P 500 Index in the first three quarters of this year. Loeb said moves by the Trump administration to ease regulations will keep markets rising.
Quotes from this Article
Before it's here, it's on the Bloomberg Terminal.
LEARN MORE