United's CEO Conducts a Master Class on Spooking Wall Street
"Patience, please," Oscar Munoz counseled. "Sell!" the market responded.
By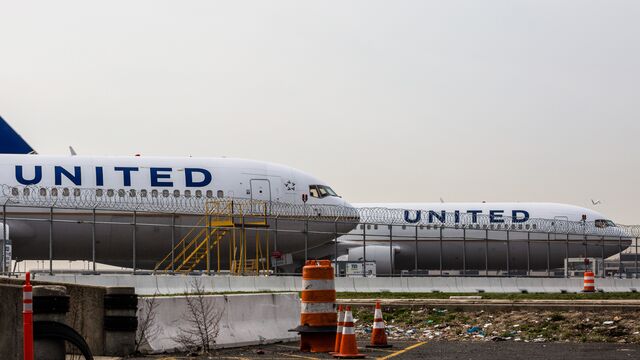 A routine quarterly conference call grew tense Thursday as United Continental Holdings Inc.'s chief executive officer, Oscar Munoz, and his deputies declined to reassure analysts about cost containment, capacity growth and the financial targets the huge U.S. carrier laid out last November.

Questions about when the airline will scale back flight capacity to reduce pressure on fares and skepticism about the company's projections on improving profits largely went unanswered. Given the lack of financial clarity about the carrier's prospects for next year, United shares dropped 12 percent, the most since October 2009. "Patience, please," Munoz counseled. "Sell!" the market responded.
Here are some of the highlights from the fateful call:
Jamie Baker of JPMorgan Chase & Co.:  " … Obviously, I'm trying to back into when your capacity might moderate back to something closer to the industry average."
United President Scott Kirby: "So I'm not going to be able to give you an answer today on what the ultimate end game on capacity is."
Hunter Keay, Wolfe Research LLC: "Oscar, if we put aside any relative comparisons to your competitors, for your margins to go up next year with current fuel, your [revenue] has to be something like 40 or 50 basis points better than your [cost]. So I'm asking you now, will that happen?"
Munoz: " … So as we head into 2018, one of the reasons we're not talking too much about it is we are deep, deep at work with regards to that. How do we get the kind of growth that has good margin? And how do we get into the bowels of our cost structure and be sure that we make that?"

Keay: "But how can we have any confidence in the 2018 [cost] story, particularly given the headwinds that you guys went out of your way to lay out on this call? So can you at least maybe bracket in a high end of [cost] for us so we have some sense of how to think about you guys in this next year?"
Munoz: "Not today. Trust me, this is not—we're not telling you because we don't want to. We are, as [United Chief Financial Officer] Andrew Levy talked about, deep in the middle of this stuff … so let us keep working through this. I just need a little more time. We've always been about proof, not promise. And so right now, I'm doing a little bit more promising, and the proof will come as we get more into the details of this."
Kirby: " … I mean, you got a bunch of numbers that are kind of apples and oranges that we neither endorsed or don't endorse."
Kevin Crissey, Citigroup Inc.: "What I'm hoping to do is maybe give you guys an opportunity to tell us—reframe this in a different way. Coming and saying, 'We're on track for these initiatives but don't mind these numbers' doesn't feel right. It feels like you need to, like, reset expectations, whether it be not giving specific numbers for individual initiatives, or somehow saying, 'Hey, resetting a bar here for these initiatives, because I don't think those numbers mean very much to anyone anymore.'"
Kirby:  I'm not sure I actually do understand the questions, but ... it sounds like you wanted us to give you a new set of numbers that you believe."
Crissey: "Well, yes ... so what I'm looking for is kind of more useful numbers."
Kirby: "OK. Look, we're not going to redo the Investor Day numbers on this call today."
Munoz: "I think you've raised a great point, and I understand—we understand it completely. And I think the conundrum is how do we give you a sense of the results of these long-tailed initiatives and provide you a little bit better transparency? So it's a good point."
Andrew Didora, Merrill Lynch: "Look, I know in terms of 2018 [cost], you're not really prepared—you're obviously not prepared to talk about that right now. But just at Investor Day, you did speak about a 2018 to 2020 unit cost [growth] of sub-1 percent on just 1.5 percent capacity. I would think you would grow much faster than this in 2018. But with the headwinds, Andrew … do you think this [cost] outlook that you provided last November is at risk right now?"
Levy: "So we're just not prepared to talk about 2018. You know, look, there's a lot that's happened, a lot of changes that have happened since we provided that forecast over a year ago. We're working through it right now … we're going through all of that, and we're just not ready to give detailed commentary on 2018 for costs."
Munoz: "Again, I know this won't help matters much, but I know everybody is getting scared about the fact that we're not going to get these numbers because of some ominous reason. I cannot fully express to you how much in the middle of things that we are."
Brandon Oglenski, Barclays Plc: "You know that when you put out public statements about earnings improvement or efficiency targets, people are going to measure you against those. And so, when you put in your slide today that Investor Day initiatives are generally performing as expected, but then we hear on the call, 'Well we don't really want to focus on those numbers,' you guys are drawing the focus there and then saying we shouldn't be focused on it."
Munoz: "Again, the things that have changed, I think we've noted and discussed. … It's hard to prove to you how well some of our initiatives are working or the fact that they are working, and the headwinds have been significant. The inconsistencies that I think you're picking up are just a function of time and structure … gosh, I wish I had more information to share with you at this point in time."
Before it's here, it's on the Bloomberg Terminal.
LEARN MORE