Stalled Korea Reactors Show Risks to Betting on Moon
By and
Panel recommends proceeding with $7.5 billion nuclear project

South Korean president's support has slipped after election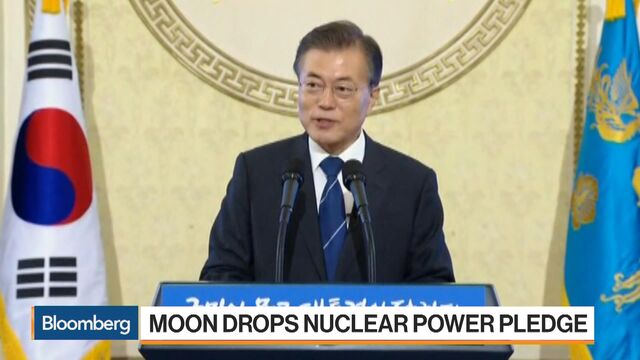 South Korean President Moon Jae-in reversed his policy on halting the construction of two nuclear reactors, sending construction shares soaring while casting fresh doubt on his ability to carry out election promises.
Prior to his May election win, Moon pledged to scrap a $7.5 billion project for two atomic reactors in the southeastern village of Ulju as part of a plan to eliminate nuclear energy and switch to natural gas and renewables. The town's 9,000 residents were angry, and experts warned that getting rid of nuclear power -- which accounts for 30 percent of South Korea's energy -- would boost electricity costs.

With criticism mounting, Moon backtracked. In July, he said he would only suspend construction of the Shin Kori No. 5 and 6 nuclear reactors pending a three-month review from a panel of 471 citizens. On Friday, the committee said construction should proceed, and Moon's administration said it will follow the recommendation "without fail." Construction companies surged on the news.
Read more on the companies that saw shares surge
The episode is just one example of how Moon has gone back on campaign pledges in the five months since he won a landslide presidential election victory. The dithering is starting to erode his popularity, potentially hurting his ability to pass sweeping reforms on corporate governance through an opposition-controlled parliament.

In addition to the nuclear reactors, Moon has also reversed his position on the deployment of a U.S. missile shield and softened a promise to raise the hourly minimum wage to 10,000 won ($8.80) by 2020. His approval rating has declined to as low as 65 percent from a high of 84 percent after first taking office. It was at 70 percent this week.
Son Bok-rak, the 53-year-old leader of a group of residents in favor of the nuclear reactors, remained upset with Moon even as he was happy that construction would continue.
"The fact that Moon made us suffer doesn't go away," he said on Friday after hearing the news. "The government is still trying to find its way out of this controversy. We think ordinary citizens have better judgement and consideration of their country's future than the government."

Read here about Moon's economic policies
So far investors have focused more on the benchmark Kospi rising to an all-time high on the back of an improving global economy. Kepco Engineering & Construction Co. and other power plant builders climbed on Friday after the panel released its recommendation.
Over the longer term, Moon's indecisiveness may prevent him from passing difficult reforms, according to Lee Jae-mook, who teaches political science at Hankuk University of Foreign Studies in Seoul.
"Prioritizing public wishes at the expense of policy consistency and long-term vision of the country will also be felt by the public over time, leading to a fall in his approval ratings," Lee said.
Moon's administration sees public consultation as an essential part of governing. Presidential spokeswoman Shin Jeeyeon said there was a tug of war between those who believed the construction of the nuclear reactors should resume and those who want to shut it down.
"The government decided to go through public discussions and reach a social consensus, which the government will adopt as policy," she said before the decision. "We expect to build a more mature democracy by using public deliberation to resolve other social conflicts ahead."
Divisive Issue
South Korea has the world's sixth-largest nuclear energy program, with 24 facilities running and five under construction -- including the two in Ulju, which are about 30 percent complete. The village is already home to one functioning reactor.
Even so, nuclear power has recently become a divisive issue in the nation of 50 million people. A national Gallup poll in late September showed the public is evenly split with about 40 percent wanting construction to continue and the same proportion seeking suspension.

Last month in Ulju, restaurants lining the road near the construction site sat empty in the early evening after the suspension of construction, and people who left their families to work there returned home as they couldn't afford to pay rent. The decision could've wiped out 3,000 jobs and possibly $177 million in additional investments in roads and gas lines.
Seo Sung-ho, a 34-year-old welder on the reactors, had no choice but to start working at his family's Chinese restaurant, which he says lost two-thirds of its revenue since the suspension.
"The workers used to come for a drink over dinner, or order black noodles to take away," he said late last month. "We can keep going because we own this property, but those who rented are all closed now."

Seo and other residents in Ulju had questioned why the government would suspend the newest atomic plants, rather than shut down older reactors -- some of which were built in the 1980s. South Korea is one of only a few countries capable of designing and operating Generation III reactors that meet the most advanced safety standards.
Pandora's Box
Moon's image has also suffered due to public perceptions that a popular movie called "Pandora" influenced his nuclear policy. In the 2016 film, a magnitude 6.1 earthquake triggers an explosion that spirals out of control at an old nuclear plant, plunging South Korea into chaos and evoking memories of the 2011 meltdown at the Fukushima nuclear plant in Japan.
Moon shed a tear watching the film at a public event. The high density of nuclear reactors in South Korea "will turn any disaster equivalent to Fukushima into the world's most miserable," he told supporters at a screening in December. "Even though the chance is one in million, as long as that chance exists, we should take way that Pandora's box rather than leaving it unopened."
Shin, the presidential spokeswoman, dismissed speculation that Moon had decided to suspend construction of the nuclear reactors because of the film. After watching the movie, his intent was to "share his empathy of the seriousness of the situation, and has nothing to do with the policy making process," she said.
Villagers in Ulju aren't convinced that Moon is sincere.
"He's not my president," said Lee Sang-dae, a resident who supports the construction, said before the decision on Friday. "It appears that they're seeking our opinion, but in reality, they already have the pre-set answer in their mind."
— With assistance by Jiyeun Lee
(
Corrects Shin Jeeyeon's name in the 11th paragraph.
)
Before it's here, it's on the Bloomberg Terminal.
LEARN MORE