It's Decision Day for Catalonia—and Spain
By and
Catalan president given until 10 a.m. Thursday to back down

Countdown continues as Puigdemont's challenge reaches climax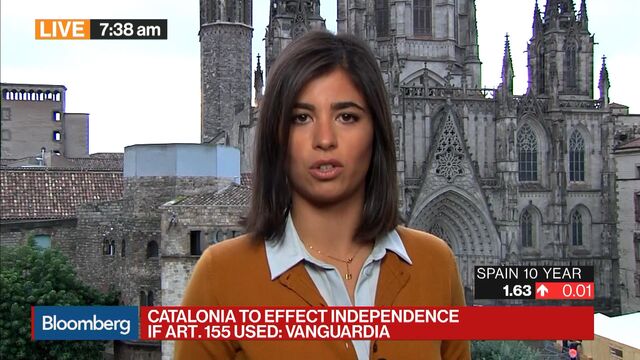 Spanish Prime Minister Mariano Rajoy has been talking for months of how he'll stop Catalonia's drive for independence.
The moment is approaching when he may have to act.

Rajoy has given Catalan President Carles Puigdemont until 10 a.m. Thursday to renounce his claims to independence for Spain's biggest regional economy. Anything less, and the central government will start the process of taking direct control of the regional administration under Article 155 of the Constitution, Deputy Prime Minister Soraya Saenz de Santamaria told lawmakers in Madrid Wednesday. Rajoy is due to arrive in Brussels for a summit of European Union leaders around midday.
"It seems clear that the government has accepted that it will have to intervene in Catalonia," said Lluis Orriols, a political scientist at Carlos III University in Madrid. "How exactly they go about doing that and what the consequences will be is still unknown."
Read more: How Catalonia's Bloody Breakaway Bid Divides Spain: QuickTake
Puigdemont will send Rajoy a letter Thursday warning that he will declare independence if the Spanish government activates Article 155, Barcelona-based daily La Vanguardia reported. The Madrid-based newspapers El Pais and El Mundo both led with stories pointing out that Puigdemont could still halt the suspension if he calls regional elections before the Senate approves central government control.
"If the Spanish state applies Article 155, President Puigdemont will have all our support to lift the suspension that he announced in parliament," Marta Pascal, general coordinator of Puigdemont's party, said at a meeting in Barcelona Wednesday. That's a reference to the regional president's decision to suspend the push for independence last week.
Rajoy has been resisting pressure from hardliners inside and outside his party to use the so-called nuclear option in the 1978 Constitution for the first time ever, wary of driving Catalan moderates into the separatist camp. But all other efforts have so far failed to reassert the authority of Spanish law in the rebel region.

Puigdemont managed to pull off an illegal referendum on Oct. 1 despite a violent police crackdown and claimed the support of more than 2 million voters. Last week he suspended the drive to secession, appealing to Rajoy for negotiations. Now he's ready to declare independence, his foreign-policy chief Raul Romeva said Wednesday.
Read more: Two Tiny Sentences in Spain's Constitution to Guide Rajoy's Hand
Even at this stage, Rajoy may soft pedal his response.
The Socialists in Madrid, who Rajoy has lobbied hard to back his efforts, are urging the prime minister to take a gradual approach to any intervention in Catalonia, according to three people familiar with their conversations. Rather than an immediate raid to seize control of all regional institutions, the central government may opt to begin a more measured process of debate and seek to intervene in key pressure points, such as the regional police force, the people said.
Socialist Leader Pedro Sanchez told reporters in Brussels Wednesday that he still hopes the Catalans will back down and avoid an intervention, Europa Press reported.
Company Exodus
Catalonia's bid to secede from Spain has thrown the country into turmoil, sparking mass demonstrations for and against independence on the streets of Barcelona and causing companies from CaixaBank SA and Gas Natural SDG SA to move their legal headquarters out of the region. Spain acknowledged the mounting economic cost of the conflict earlier this week when it cut its economic growth forecast for 2018.

Spain's benchmark stock index has lost about 8 percent since reaching a 20-month high in May as the separatist push gathered momentum. The spread between Spain's 10-year bonds and similarly dated German bunds has widened by 27 basis points since July.
Unless Puigdemont or Rajoy backs down at the last minute, Catalonia and Spain as a whole are headed for uncharted territory. The stakes are high. Catalonia is a hub for tourism and industry including Volkswagen AG's Seat unit that accounts for a fifth of Spain's economic output.
The next step for Rajoy, if he decides to enact Article 155, is for the Spanish cabinet to rubber stamp his decision -- the cabinet is due to hold its regular weekly meeting on Friday, while the prime minister attends the second day of EU talks.
The cabinet then needs to submit the specific measures for approval by the Senate. Because it's never been used before, there's no clear roadmap to guide Rajoy as he plans his possible intervention in Catalonia.
Before it's here, it's on the Bloomberg Terminal.
LEARN MORE