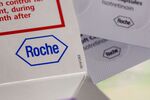 A punch in the face you see coming still hurts.
After years of dread, Roche Holding AG is finally seeing the impact of biosimilar 1 competition on one of its mega-blockbuster cancer drugs. The company's third-quarter earnings report Thursday revealed that Rituxan's European sales fell relative to the same period last year due to competition. Its decline will only accelerate. Growing sales of new drugs softened the blow for Roche somewhat, but the company may be asking too much of its next generation of medicines. 

Biosimilar copies and other competitors are projected to trim $13 billion in annual sales from cancer drugs Rituxan, Avastin, and Herceptin by 2022. Yet analysts somehow still expect Roche's total sales to grow significantly over that time period. 

Roche's newer drugs have some heavy lifting to do. Multiple sclerosis drug Ocrevus is living up to its blockbuster billing, generating $320 million in sales in just its second quarter on the market. But trouble looms elsewhere.
Breast-cancer drug Perjeta showed a limited impact this summer in an important trial designed to expand its use. That may hamper the drug's long-term growth prospects. 
The biggest question mark is Tecentriq, Roche's entry in the crowded market for immune-boosting cancer drugs. Its third-quarter sales fell from the second quarter and missed analysts' estimates by 14 percent. That's not precisely what you want to see from a year-old drug expected to be a pillar of future growth.
Tecentriq is currently approved to treat bladder cancer -- where it must now compete with four similar medicines in the U.S. -- and in previously treated lung cancer, where it is playing catch-up with Bristol-Myers Squibb Co. and Merck & Co. Inc. Price competition and sluggish growth is inevitable in these markets.

The drug's chances of reaching its anticipated peak of $4 billion in annual sales depend on extending its use with a series of risky trials. It unexpectedly failed one such study earlier this year.
The most crucial of these trials -- in newly diagnosed lung-cancer patients -- is expected to produce data later this year. Success is far from guaranteed. Just ask AstraZeneca PLC and Bristol-Myers investors who saw the companies shed billions of dollars in market cap after their similar drugs flopped in heavily hyped lung-cancer trials.
Roche's pharmaceutical head Daniel O'Day sounded cautious on a call with analysts Thursday morning, acknowledging these trials are difficult to predict. "We placed a number of bets here that we think are all good, logical, scientifically based bets," O'Day said. "But because ... we as an industry are still learning in cancer immunotherapy, we don't exactly know which one's going to read out." 
Roche is one of the industry's biggest R&D spenders and has other options in its pipeline. But the sheer size of its coming cancer cliff means it can't afford more disappointments. 
Before it's here, it's on the Bloomberg Terminal.
LEARN MORE