U.S. Braces for a Third Straight Warm Winter
By
Forecast watched closely for clues about heating demand

Uncertainty over Midwest, weak La Nina complicate outlook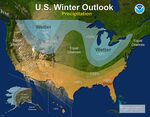 Natural gas traders are facing the possibility of another mild U.S. winter.
Temperatures from December through February will be above normal for much of the southern U.S., East Coast and Northeast, the U.S. Climate Prediction Center said in a report Thursday.
A run of "beautifully mild weather" this autumn has already weighed on the market, said John Kilduff, founding partner at Again Capital LLC in New York. "This relative warmth this late in the season here is just a killer for the bull case," he said in a phone interview.
The forecast does hold a silver lining for gas bulls, who have seen a supply glut weigh on prices for much of the past two years. Key gas-consuming markets in the Midwest have an equal chance of being warmer or colder than normal. There's also the possibility of a weak La Nina developing in the equatorial Pacific, which can lead to colder winters in parts of the U.S.
"We expect it to be warmer than average but we are not expecting the record warmth we had in the last two winters," said Mike Halpert, deputy director of the U.S. Climate Prediction Center.
Sixth Mildest
The winter of 2015-2016 was the warmest on record, while last year was the sixth mildest going back to 1895, according to the National Centers for Environmental Information. Meteorologists measure winter from Dec. 1 to Feb. 28.
The forecast is closely watched by gas and energy markets as winter months make up the heart of the heating season, when the most fuel is burned in the U.S. Nearly half of all U.S. homes are heated primarily with natural gas, the Energy Information Administration said.
Natural gas futures for November rose 1.9 cents to settle at $2.873 per million British thermal units on the New York Mercantile Exchange on Thursday after recouping early losses. Prices are still down 4.2% this week.
Futures have swung between gains and losses in the past month as traders scrutinize forecasts for clues about likely winter temperatures during the peak heating season. 
There's a 67 percent chance for a weak La Nina some time from December to February, up from 61 percent last month, the U.S. Climate Prediction Center said last week. Shifts in the Arctic Oscillation, an index of the state of the atmospheric circulation over the Arctic, can also bring frigid temperatures into the U.S. heartland.
If La Nina doesn't develop, there could be major changes to the winter outlook when forecasters revisit it next month.
Before it's here, it's on the Bloomberg Terminal.
LEARN MORE