Four People Dead After Togo Opposition Protests, 60 Arrested
By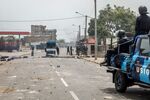 Clashes between police and opposition protesters left one person dead in Lome and three others in Sokode, 330 kilometers (205 miles) north of the capital, according to Security Minister Yark Damehame.
"Demonstrators erected barricades and burned tires across the capital, Lome," Damehame told reporters. "In Sokode town, protesters blocked a road that links Togo with neighboring Burkina Faso for hours."
The protesters are opposed to proposed constitutional changes they say will enable President Faure Gnassingbe to extend his rule. A coalition of opposition parties reject the proposal because its changes to the constitution aren't retroactive and would keep Gnassingbe in power for at least another 10 years. He has governed Togo since the 2005 death of his father Gnassingbe Eyadema, who seized power in a 1967 coup.
Last week, the Togolese government banned street protests on working days. Political tension has run high in the West African nation since its parliament adopted draft legislation on presidential terms, paving the way for a national referendum on the issue.
Before it's here, it's on the Bloomberg Terminal.
LEARN MORE