Euroskeptic Billionaire on Route to Czech Election Victory
By and
Babis had wide lead over traditional parties before ballot

Social Democrats headed for defeat despite booming economy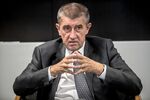 A Czech billionaire looks set to win parliamentary elections Saturday, overcoming traditional political parties on a pledge to run the state like a business, fight Muslim immigration and oppose deeper integration with the European Union.
Andrej Babis, who has drawn comparisons to Donald Trump and Silvio Berlusconi, had a wide lead in opinion polls before two days of voting started Friday. With a chemical, food and media empire employing 34,000 in 18 countries, the Slovak-born businessman -- and second-richest Czech -- increased his popularity while serving as finance minister before he was fired by his coalition partner, Prime Minister Bohuslav Sobotka.
Taking credit for the EU's lowest unemployment, one of its fastest rates of economic growth, and a budget surplus, Babis has portrayed himself as a competent manager struggling against traditional parties. That's lifted his ANO party's support, while his attacks against Muslim immigration and criticism of the EU have helped fuel the rise of anti-establishment political forces similar to Germany's AfD and Austria's Freedom Party. It's also raised concern that a Babis victory may add another source of tension within the EU, which has clashed with Poland and Hungary over democratic values.
"Babis has managed to take advantage of the crisis of traditional parties and offer something new," Josef Mlejnek, a political scientist at Charles University in Prague, said by phone. "He has depicted his rivals as an incompetent, corrupt bunch and he is presenting himself as the only one who can get things in order."
Voting in the country of 10.6 million people resumed at 8 a.m. on Saturday and will run through 2 p.m. After casting his ballot Friday, Babis said he would prefer that as few parties make it into parliament as possible to make coalition talks easier.
Read more about conflicts in ruling coalition in QuickTake Q&A
Sobotka dismissed Babis in May in a conflict over his past business dealings. The premier's Social Democrats later teamed up with the opposition to strip the billionaire of his parliamentary immunity from prosecution to make way for an investigation into fraud allegations.
Police have since charged Babis, 63, in the case of a 50 million-koruna ($2.3 million) in EU subsidies transferred to his Stork Nest recreation complex. Babis denies wrongdoing and says the allegations are an attempt to sideline him from politics.
Despite the scandal, he's held on to support siphoned from both the Social Democrats and other traditional parties. He has boasted of streamlining government operations and, via a law requiring retailers to link their cash registers to the Finance Ministry, boosting budget revenue and cracking down on tax evasion. At the same time, he's railed against EU "meddling," a stance that resonates with voters in the bloc's most euroskeptic member.
"He has already proven how capable he is in the past four years," said Jaroslav Brozka, an entrepreneur from the western town of Plzen. "He was a good finance minister. He balanced the budget and lowered public debt."
As finance minister, Babis boasted about selling state bonds with negative yields. The yield on the 10-year government bond was at 1.65 percent on Friday, quadrupling since the start of the year after the central bank began raising interest rates.
Anti-Establishment Rise
Regardless of the government's economic achievements, polls have shown the emergence of protest parties including the anti-immigrant Freedom and Direct Democracy, known as SPD, and the Pirate party. Alongside the Communists -- the descendants of the Moscow-backed regime that ruled before the 1989 collapse of the Iron Curtain -- the three could take more than a quarter of parliament's seats.
Babis, like the rest of the Czech traditional political establishment, has rejected ruling with SPD and the Communists. President Milos Zeman, who names the prime minister, said Friday he'd start meetings with party leaders after Oct. 28. With opinion polls showing as many as eight parties winning seats in the chamber, coalition building could be difficult.
"Coalition negotiations will likely be lengthy," Otilia Dhand, an analyst at Teneo Intelligence in Brussels, said by email. "It is likely that the new government will only be formed toward the end of the year."
Before it's here, it's on the Bloomberg Terminal.
LEARN MORE