DeVos Policy May Discourage Sexual-Assault Complaints, Suit Says
By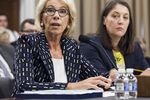 U.S. Education Secretary Betsy DeVos's guidance on how universities should handle student claims of sexual assault violates federal civil rights law and may discourage victims from filing complaints, a women's rights group said in a lawsuit.
The Department of Education's "Q and A on Campus Sexual Misconduct," issued in September as a replacement for earlier Obama administration guidelines, illegally raises the standard of proof needed to hold physical offenders responsible, the nonprofit organization Equal Means Equal said in a complaint filed Thursday in federal court in Boston.
"This means that the more serious physical offenders of sex-based civil rights harms are less likely to be held responsible compared to less serious verbal offenders," the group said in its complaint. The guidance requires a more onerous "clear and convincing evidence" standard of proof rather than the civil rights standard of "preponderance of the evidence," it said.
Before it's here, it's on the Bloomberg Terminal.
LEARN MORE