Corbyn Beats May to Brussels, Getting His Brexit Pitch in First
By and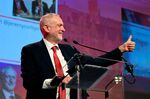 Follow @Brexit for all the latest news, and sign up to our daily Brexit Bulletin newsletter.
Introduced as the next prime minister of the U.K., Jeremy Corbyn received a standing ovation from European Socialists in Brussels, hours before the actual head of government could make her case to fellow leaders.
In a piece of political theater aimed at undermining Theresa May at a key summit, the leader of the Labour Party hammered away at the theme that she should get out of the way and let him lead talks with the European Union.
Read more: May to Push for Brexit Progress at Showdown Supper

"As the government's splits and Brexit bungling become ever more damaging, Labour stands ready to take up responsibility for the Brexit negotiations," Corbyn said. "We are clear in our priorities: a jobs-first Brexit which maintains free access to the single market."
He went further: "I am unapologetic in taking every opportunity to seek to influence the final Brexit deal in the interests of the many, not just the few."
Still, when Corbyn said he was going to respect the results of the Brexit referendum, he was met with complete silence.
Corbyn went on to meet with the EU's chief negotiator, Michel Barnier, and also hung out with Greek Prime Minister Alexis Tsipras.
"We follow your example," Corbyn told Tsipras, according to the account of a Greek government official in Brussels. Asked to clarify whether Corbyn meant that he's following Tsipras's example in economic policy, the Greek official said that Labour's leader meant that he's following the example of a left-wing party coming into office. 
— With assistance by John Follain
Before it's here, it's on the Bloomberg Terminal.
LEARN MORE